Stepantsminda/Kazbegi is probably one of the most popular places to visit in Georgia outside of Tbilisi, and for good reason. It's home to Mount Kazbek, which is one of the tallest mountains in this part of the Caucasus, and the town itself boasts some breathtaking views and a rugged sort of charm. You'll figure that part out for yourself, though—you probably want the lowdown on getting in and getting around, and that's what this blog is here for.
Getting there and back
A lot of guides that tell you how to get somewhere in Georgia start with something along the lines of "Go to Didube bus station and find the marshrutka." What they often don't mention is that Didube is a massive maze of market stalls and several distinct marshrutka departure areas that are definitely not directly adjacent to each other.
For the Kazbegi/Stepantsminda marshrutka, it's relatively easy: they're on Transporti Street, which you can find outside the Didube subway station exit (Google Map link), between the market and Akaki Tsereteli Avenue. Just walk straight out of the subway entrance and browse that marshrutka yard until you find the one with the sign and/or board in the window labeled Stepantsminda or Kazbegi.
The normal marshrutka should cost you 10 lari and make the trip in 2.5-3.5 hours. However, there's also a 20-lari minibus/private car that takes slightly longer (at least 3 hours) and makes at least 2 sightseeing stops (at Ananuri Fortress and the Russia-Georgia Friendship Monument). The key thing to know here is that the sightseeing option will probably look a bit different—ours was an old red van with fewer seats than a typical minibus.
To be fair, that probably should have tipped us off that this one wasn't what we were looking for, but being novices in the ways of the marshrutki, we assumed they must all cost 10 lari—it was a van with the Kazbegi sign in the window, right? Thus, after getting a silent thumb jab towards the vehicle from the old man in front of the vehicle in reply to our "Kazbegi?" query, we blithely climbed on in, only finding out when we were about to leave that we'd actually signed up for a private car.
As mistakes, go, though, this one turned out for the best! We still made pretty good time to Stepantsminda, and the two stops along the way were 100% worth it—the views were amazing. Ananuri Fortress is an old castle/church combo next to a beautiful lake, and the Russia-Georgia Friendship Monument is, much like the relationship between the two countries, confusing and chilly. The mountain views you can get, however, are unparalleled, and if I had to do it over again I'd make the same mistake. Totally worth it.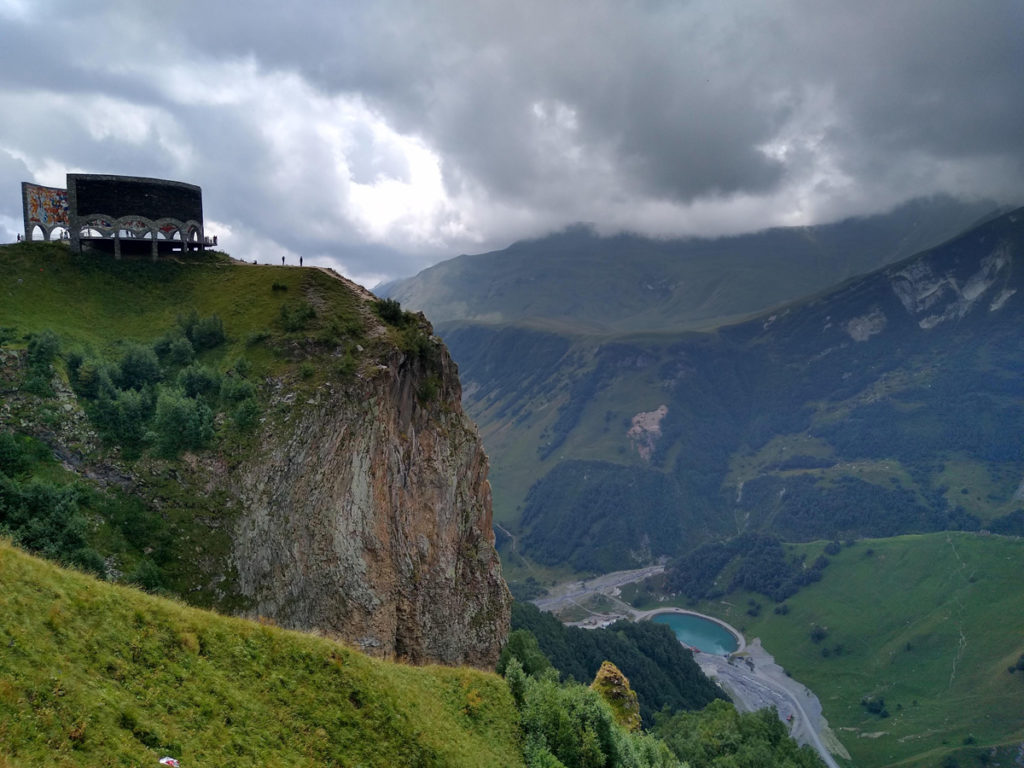 The regular marshrutka leaves roughly once an hour (on the hour, I believe—8AM, 9AM, 10AM, etc). The private cars/vans, I think, will leave whenever they're full.
Getting back to Tbilisi is pretty easy. Your ride probably dropped you off by the highway in an area that seems vaguely like a city square. It's pretty much the middle of Stepantsminda and is marked by a bus stop on Google Maps. You might get ride offers from some drivers, but there's also always the Marshrutka for 10 lari. From what I could gather, it leaves every hour on the hour in the mornings, then starts working on a sort of 1.5-hour schedule in the afternoon. I think we caught the 13:30 bus, and showing up a mere 10 minutes in advance was barely enough to get bad seats. Being early will serve you well.
Summary:
Go to Didube Bus Station and get to the yard near the subway station entrance
Find the marshrutka labeled "Kazbegi" or "Stepantsminda." You have two options:

Regular Marshrutka for 10 lari (one non-scenic stop)

Private car for 20 lari (two pretty excellent scenic stops)
Hiking to the Gergeti Church/Glacier
The first thing you should do for hiking around Kazbegi is download Maps.Me and get the Georgia maps. It was a big help for us getting up to Gergeti Glacier.
The second thing you should do: don't believe the route it gives you up to the church (though it'll probably change at some point in the future). For some reason, the default way up on Maps.Me is an exhausting, steep trek up the mountainside. You pass a cool Georgian flag on the way up, sure, but it'll leave you exhausted—not a good start if you're planning to go to the glacier. Here's the way to go: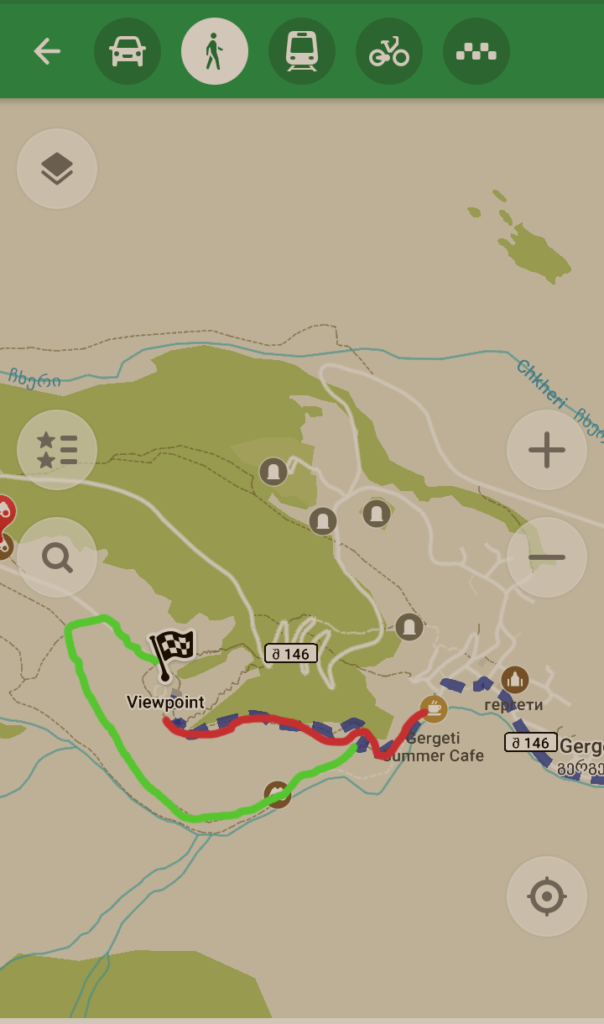 Follow the app all the way up until you get to the stone watchtower.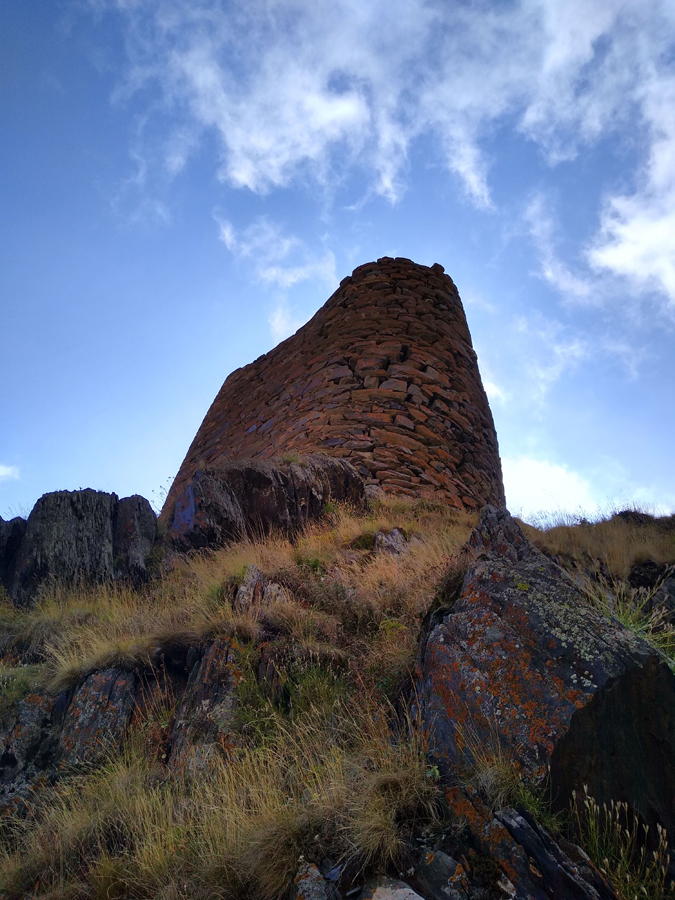 2. It might then appear that you've gone past the turn you were supposed to make. It may also appear that the obvious path in front of you actually leads past the church rather than to it. Don't fall for it. Keep going past the watchtower. Do not turn back and go up the side of the mountain behind you. Do not pass Go. Do not collect 200 lari.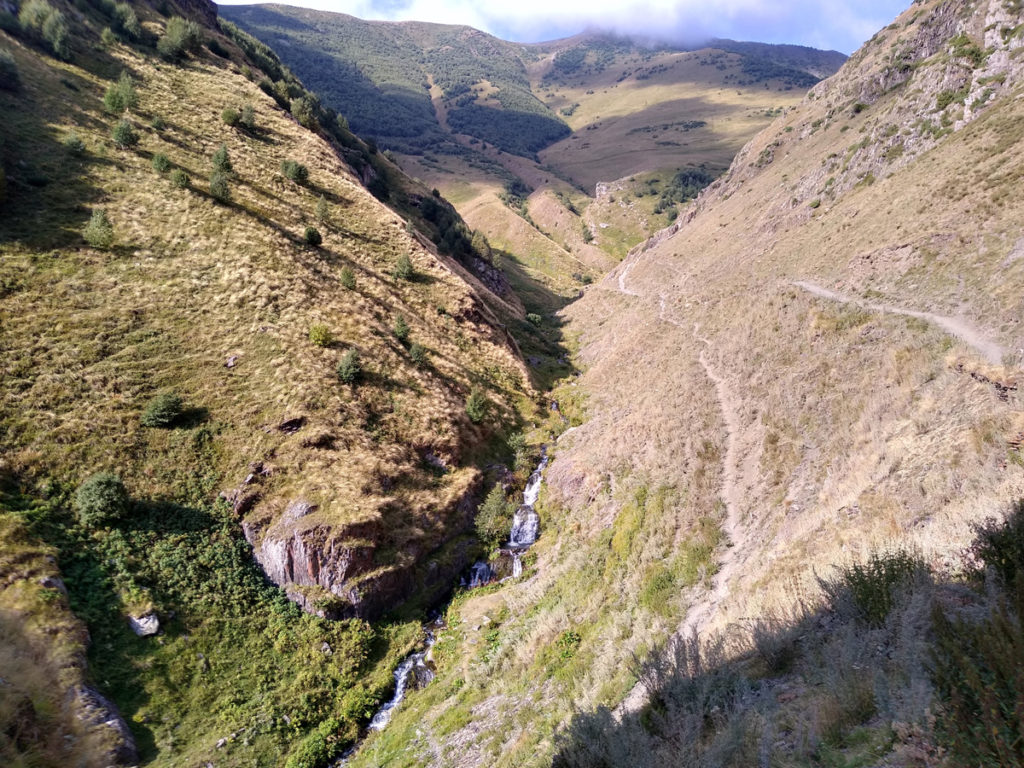 3. This path does take you around the church, but not as far as it seems. It'll emerge into a big pasture with random trails running through it, and you can reach the church easily from there. It's still rather steep, but much less exhausting than the route recommended on the map when we used it.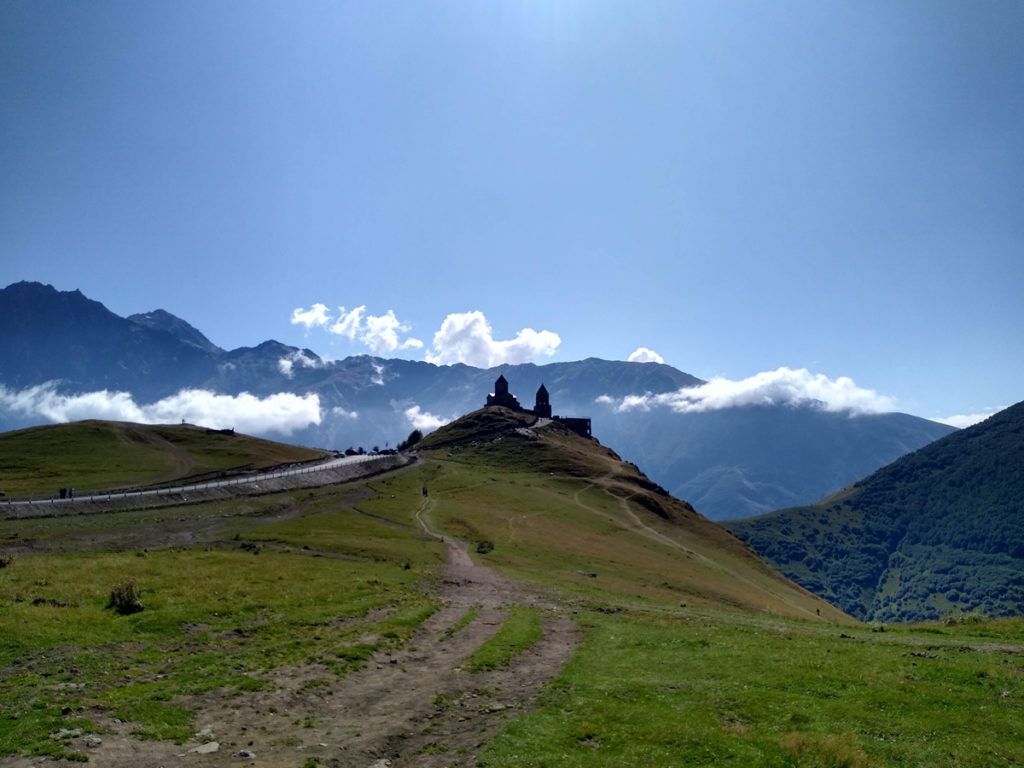 After that, if you're planning on hiking to the glacier, Maps.Me will lead you right. You may also pick up a few guide dogs—seriously, they're athletic little beasts that hike the mountain pretty much every day and love tagging along with groups. Don't trust them, though—they're not actually leading you anywhere. They're just looking back to see where you're going and then dashing ahead of you because they have four legs, a low center of gravity, and a lot of time on their paws. They're not necessarily in it for the food but if you packed too many snacks they'll gladly help you lighten your backpack.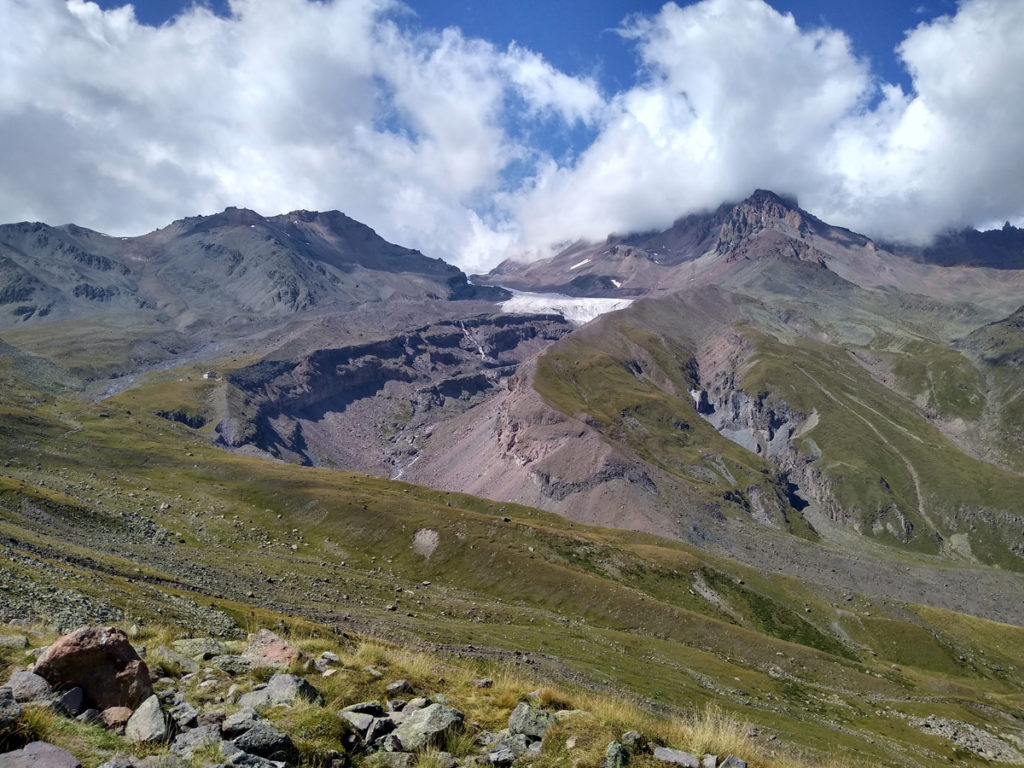 The glacier hike isn't that difficult in terms of elevation change/distance, but it takes a while (it might take you 9-11 hours round-trip) and you're in high-altitude conditions (2000+ meters) pretty much all the time. I'm in pretty good shape (I run 5-10k five days a week and do regular resistance training), but I have lower-than-average lung capacity and at 3000 meters I was considerably below peak performance. You may also want to keep your mountain snacks light—the pressure difference can mess with your stomach as well as your head and circulatory system, so sausages and khachapuri might not sit so well.
That's not to try and scare you off from the hike—just be aware that non-acclimatized people might find themselves struggling a bit more than usual. I still made it up to the glacier and going down felt great since my altitude symptoms disappeared steadily as the elevation decreased.
As far as cold-weather gear goes, we went in August and were definitely overprepared. I was wearing two layers with the sleeves rolled up for 80% of the hike and only threw on the light jacket towards the end when it hit around 5 C near the glacier. Other months will probably be colder.
When you get down from the mountain, you might meet a taxi or two offering to take you back for 40-50 lari. That's a pretty massive scam, since that's easily cost of a return trip from the town of Stepantsminda, so we skipped it. If you go back up to the church area you might find a taxi more willing to cut you a reasonable one-way rate (20 lari or so), but the rest of the hike down the trail that runs into the valley to the right of the church (when you're facing it from the Gergeti glacier trail) isn't too bad—maybe an hour or a bit less—and you get some great closing views.
General Kazbegi hiking tips: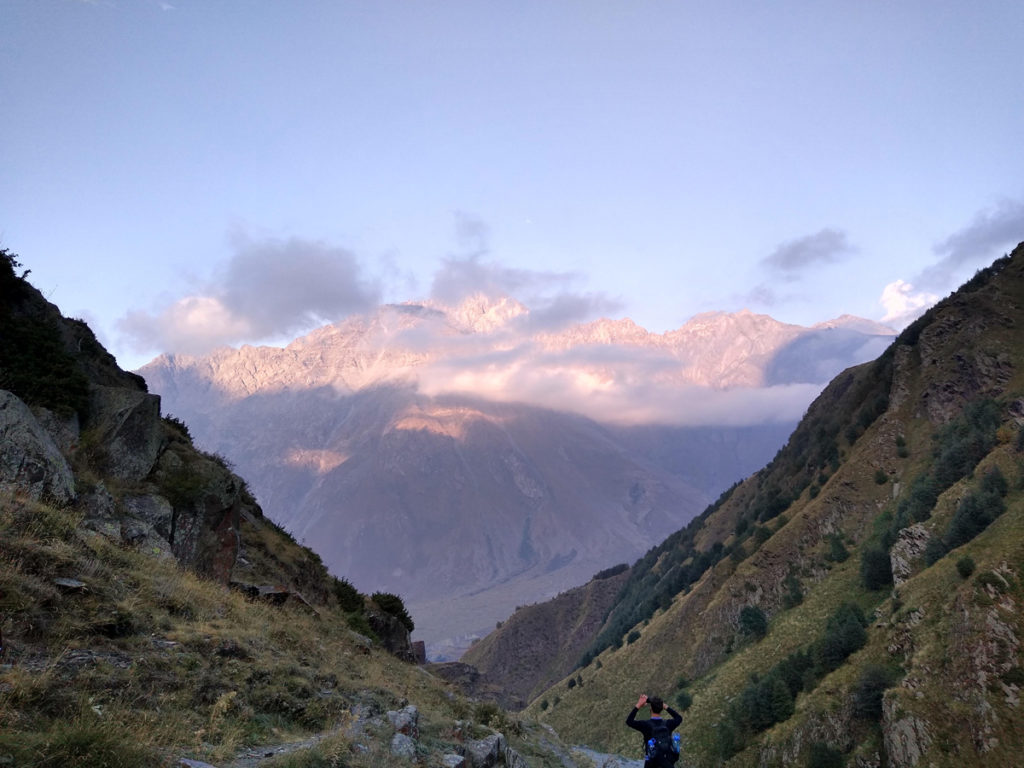 Don't take the steep way recommended by Maps.Me, but the app is fine after that.
Bring lots of water (seriously, at least 2-3 liters a person)
Get ready for altitude
Bring layers (depending on time of year)
Don't eat too much on the way up—the altitude might hit your stomach
You can stock up on snacks and water at Market Ska—Kazbegi's answer to a supermarket.
Drink a beer when you get down—you deserve it. Vitamin Restaurant has Jagermeister, which I don't usually drink but really like after a chilly hike. Recommended.
General Stepantsminda tips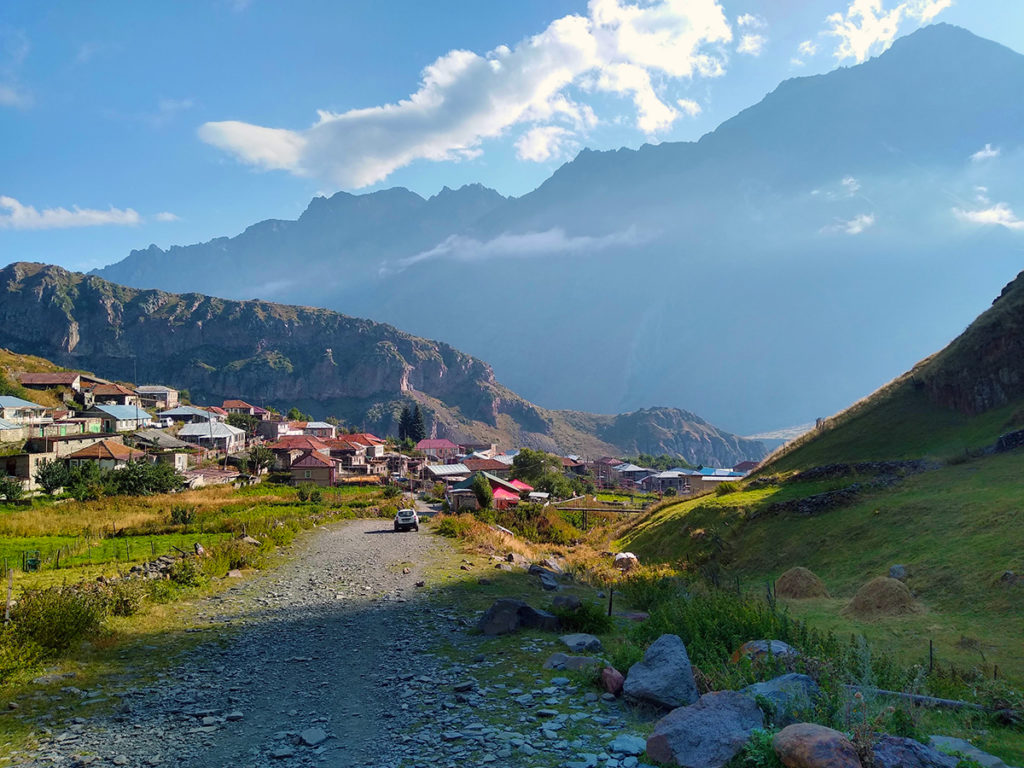 Everything is a little more expensive here—it's a remote tourist town. Expect prices to be 10-25% higher for some things. I use the khinkali index: 0.5-0.6 GEL is cheap, 0.7-0.9 is average, 0.9-1.2 is pricy. Khinkali in Stepantsminda hovers in the 1+ range. Extrapolate that to other items and you'll get a good idea. Not bad at all in absolute terms, honestly—just don't be worried that you're getting ripped off. Higher prices are pretty normal.
It's always pretty chilly. Expect to need, at minimum, a long-sleeved shirt year-round. Warmer clothing and jackets are a must for the nighttime and/or colder months. The mountain gets cold in July/August, but hardly arctic—a few layers will be fine. I haven't been up there in the winter, but I'd assume you'll need some heavier gear.
The town itself doesn't have a ton to do. If you don't like hiking, your options are basically eat, drink, and enjoy the view! You should probably try hiking, though.
Most things are walkable—it's a tiny town—but it is built on a hill, so expect a lot of slopes.
You might experience power or water cuts. We were out of power for a day because a horse apparently sabotaged some power lines.
The dogs are a bit more rough-and-tumble than they are in Tbilisi—you'll see quite a few with scars and you'll notice they get a lot more barky and territorial towards other dogs. Don't worry—they're still mostly safe around humans. They just want your food, and maybe some love. Mostly food, though.