Tbilisi isn't the most connected city in the world, but it still beats probably 90% of American cities for reach and convenience. Granted, it's not hard to beat American public transportation, but even by European/Asian standards it's really not bad. The subway system has two lines that can reliably get you to most parts of the city in ~30 minutes, buses go to enough places at short enough intervals to be useful (and are all pretty modern-looking), and anywhere that you can't get to via bus or subway you can probably reach via marshrutka, plus you have your choice of four (!) different ride-hailing apps.
And as far as walking goes, I hear some people complain that Tbilisi isn't walkable, and that may be true compared to some other European or Asian cities, but it's worlds better than America or Thailand. Sidewalks exist and are in pretty good condition, stoplights cycle walk signs regularly, and I haven't observed pedestrians having many issues here.
The Tbilisi Metro/Tbilisi transportation card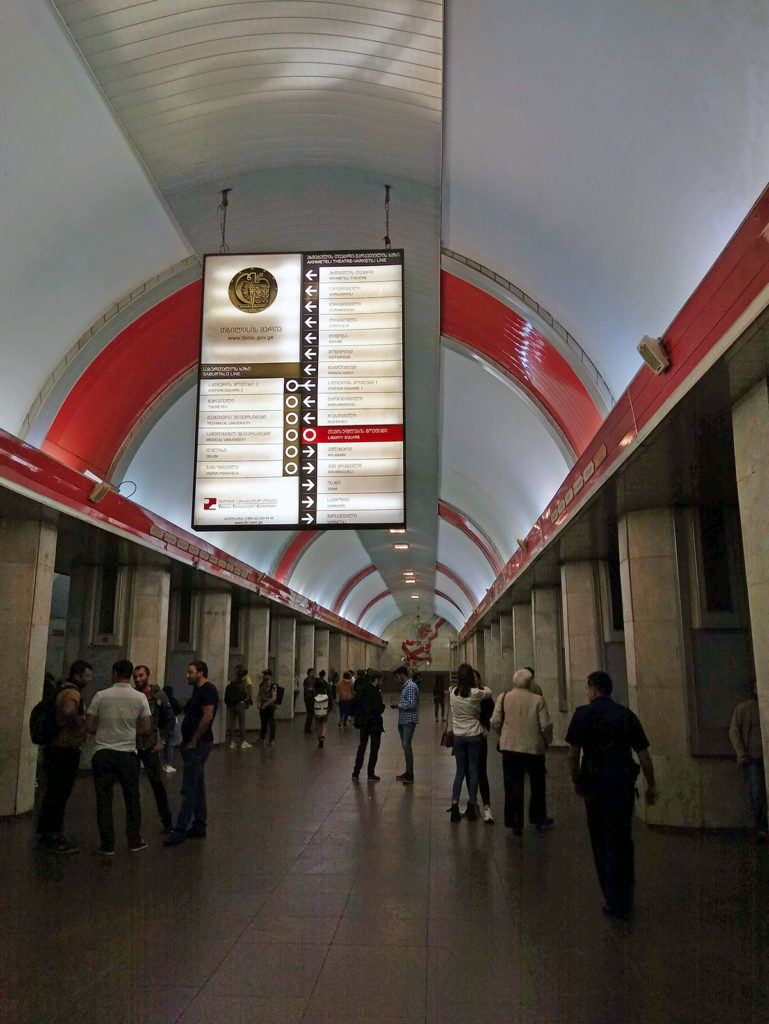 Unless you've never ridden a subway system before, you shouldn't have a problem figuring out Tbilisi's metro lines. There are only two: one runs north-south (Akhmeteli Theater-Varketeli Line, AKA "Line 1"), and the other runs east-west (Station Square-State University, AKA "Saburtalo Line," AKA "Line 2"). You can transfer between them at Station Square. Between these two lines, you can get to most of the important spots in Tbilisi—almost all the touristy stuff is within 10-20 minutes walk of a metro stop—or at least get close enough that a short bus/cab ride can cover the last bit.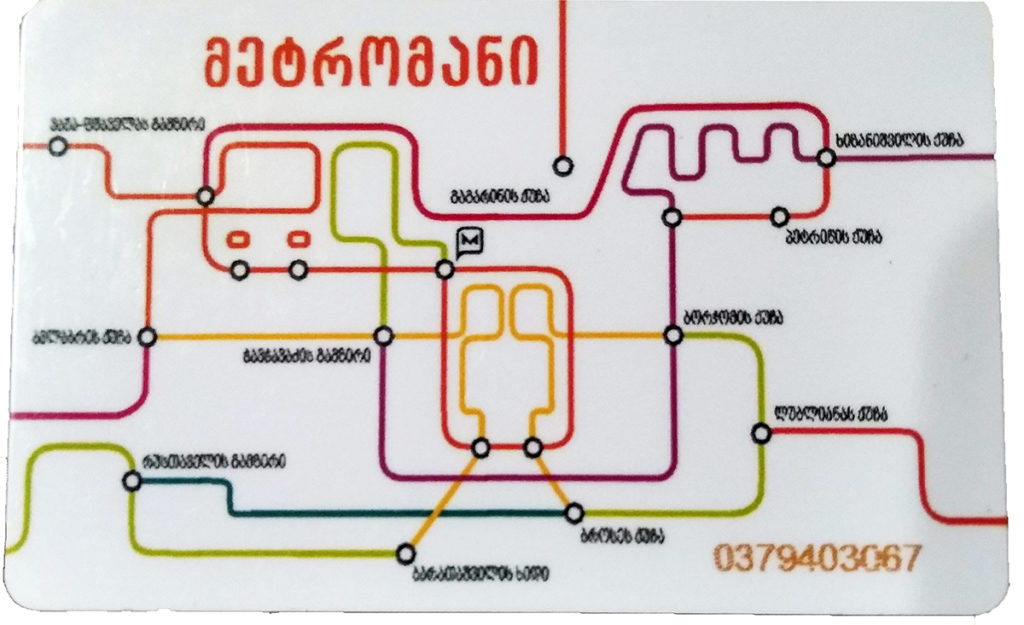 The cost is barely worth mentioning: 0.5 lari, or ~0.2 USD (20 cents), payable by tapping your metro card onto the sensor on the turnstiles at every subway stop. If you don't have a transport card, just find the little office in the entrance of each stop and ask for a card. It costs 2.5 lari (or 2? I forget), plus whatever you want to put on the card as an initial charge. This card will also get you onto buses, marshrutkas, and cable cars(yes, even cable cars) here. Topping up the card is easy—just find any of the bank machines, locate the "Transport card top-up" option, tap your card, insert money, tap again, and you're done! I'm not sure if this card works for things outside of Tbilisi; I would guess that smaller towns probably aren't up to speed on this quite yet, though.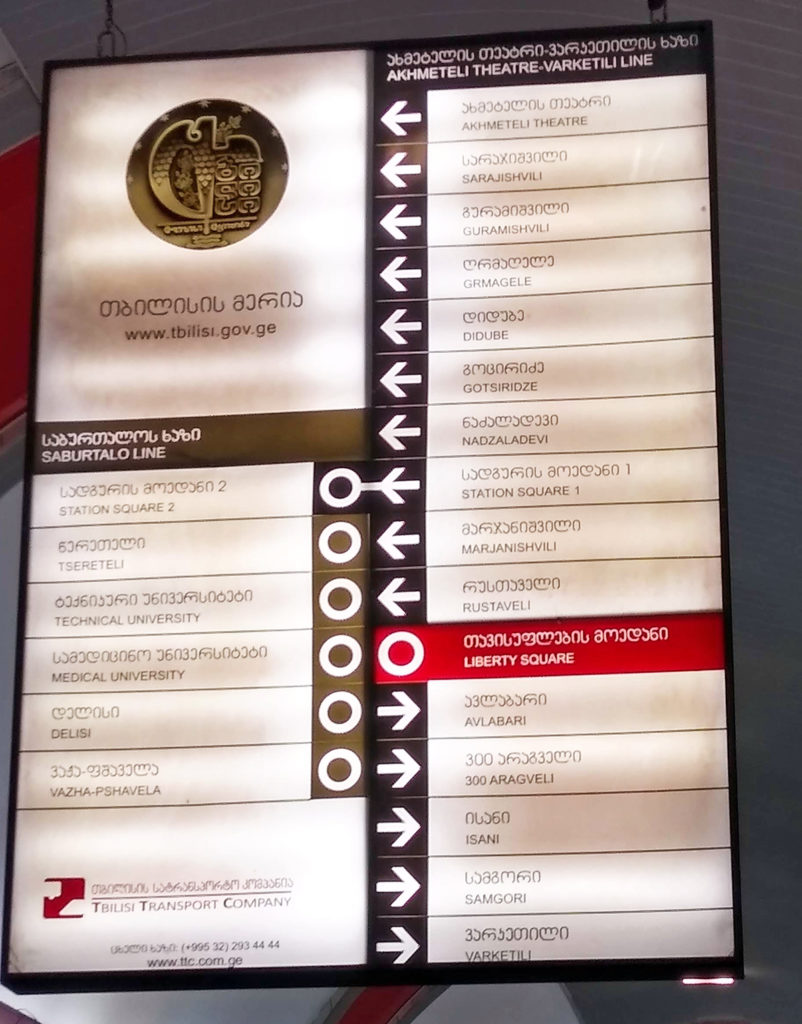 The hardest part of the metro might be figuring out which direction the signs are telling you to go—it can get a little confusing. Here's how to read a sign like the one above:
The left side is the Saburtalo Line
The right side is Line 1
The red highlight is where you are
The arrows are pointing towards the side of the platform you'll need to be on to get your train to a given stop. The arrows above and below the red dot will be pointing different directions for this reason.
It sounds easy, but I've found people generally go the wrong direction at least once before they get used to the system.
A couple of other notes on the metro system here:
It's loud! If you're used to a nice quiet metro system somewhere, this will be a bit of a shock to your eardrums.
Some of the stock is rather old, so you may find yourself on something that feels like it's from the Soviet era (probably because it is) every now and then. A lot of the trains are getting upgrades, though, which is nice.
The metro comes more frequently during peak hours, which is pretty nice—you probably won't have to wait more than five minutes or so if you're riding at a popular time. Later at night, though, they tend to come every 10+ minutes.
The metro hours are 6AM-12AM, though depending on which station you're at you can often catch one a bit after 12. Update: Due to maintenance, they're now closing at 11PM/23:00 until July of 2020.
A lot of the stations, especially on Line 1, are very deep—build in some escalator time if you really need to be somewhere.
The Tbilisi Bus System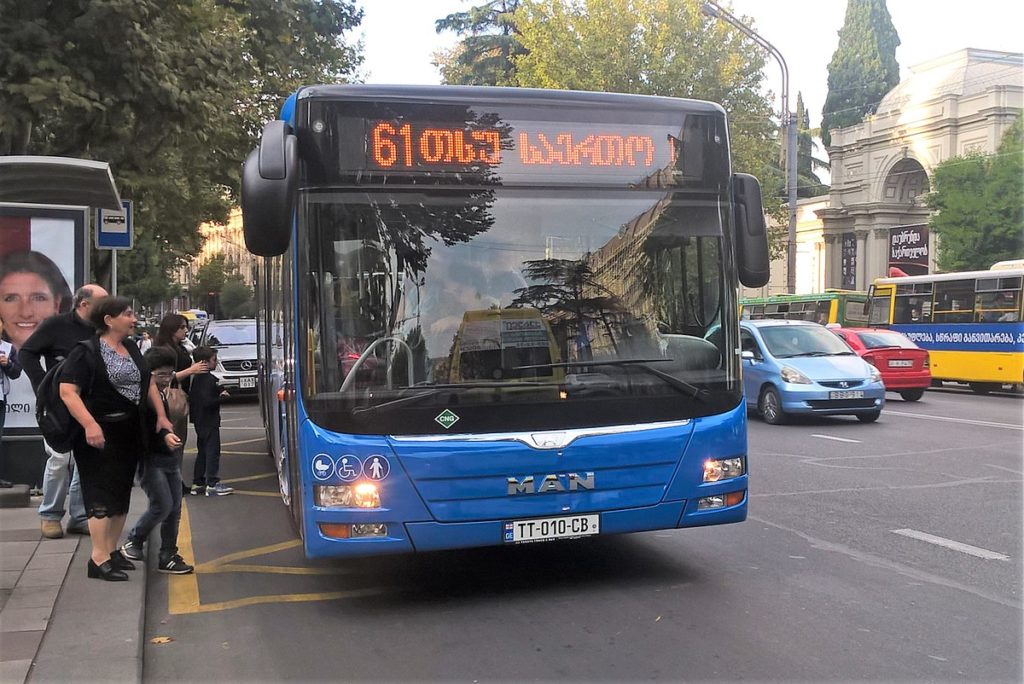 Buses in Tbilisi are pretty nice. A lot of them seem quite new, and even the older ones are hardly the worst I've been on. Most of the stops have digital arrival boards, and they're almost always correct. If you're not sure which bus to take, you'll want to discover the magic of Google Maps, which provides pretty accurate and up-to-date bus information for all of Tbilisi and helps you know exactly which number to take, where to get on, and where to get off.
If you prefer, you can use the TTC (Tbilisi Transport Company) app or one of the other Tbilisi bus apps to see routes and plan your journey. For just getting from Point A to Point B, though, sacrificing a little location data to the Google gods is definitely the quickest way. It may be worth getting TTC or something anyway, though, since you may find Google Maps doesn't always keep up with where the bus stop is (looking at you, Lisi Lake). TTC also has a journey planning website if that's something you would find useful.
To ride the bus, just bring on your transportation card (the same one as the metro) and tap it on one of the card readers. I usually do this as soon as I get on the bus (pretty much everywhere else I've been has this as the norm), but in Georgia it seems acceptable to do it at any point during your ride. I can't quote the law on that, but it seems to be a habit here to just tap whenever. The fare is the same as the metro—0.5 lari. If you don't have a card or its balance has run out, you'll need to resort to feeding coins into the machine.
Tips:
If someone randomly passes you a card in a crowded bus, your job is to pass it down towards the machine so it can be tapped and passed back before that person's stop arrives.
Different buses have different doors—sometimes they'll be in the middle, sometimes the back, sometimes the center, sometimes 1 of those, sometimes 2, sometimes all 3. Just wait and see.
Norms for getting on and off the bus seem relatively minimal—there isn't necessarily a designated door for getting on or getting off and don't necessarily expect people trying to get on to wait for you to get off. Welcome to the jungle!
Google Maps will almost always recommend that you take the bus rather than the metro. It may be right sometimes, but during high-traffic hours the metro is a much better bet for getting somewhere fast.
Ride-hailing apps in Tbilisi
If you've lived in the 21st century for a while now, you'll probably be familiar with how these work, and Tbilisi is no different. There are several apps available here, and they seem to have ups and downs in quality over time. All of them are available in English, though, and the price differences between them tend to be pretty minimal—one or two lari at most. Here's what's available in 2019:
Bolt (Taxify): They've got a nice app and people say that the quality of their cars is a bit higher. I personally have only ridden in them when my wife or friends called them, since Bolt banned my phone before I could even take one ride (presumably because I signed up while in Thailand) and after three weeks of asking if my account was going to be unblocked and getting a "We're working on it" response, I just gave up.
Yandex Taxi (Y.Taxi): Since Bolt banned me, this is my primary ride-hailing app. It's also quite popular here, and I haven't noticed that car or driver quality is really any lower than Bolt. It's never been too expensive and I'm happy that they have an option to leave a tip (Bolt doesn't) because I know the drivers probably aren't making much and a 25% tip is generally around 50 cents.
Maxim Taxi: This is apparently the go-to for cheap rides. I've never used them, but I might give them a shot sometime! I haven't heard any complaints, and when I compare prices with Yandex it does indeed seem to be consistently cheaper.
GG Taxi: I haven't used them, but I have the app and some people have spoken well of them. Might give them a shot!
Grabbing a ride in one of these will probably cost you 4-10 lari for an average ride, depending on what time of day you're riding and how far you're going. A Yandex from Saburtalo (Delisi area) to Freedom Square (or vice versa), which is my most frequent route, typically costs about 7 lari on a weekend evening.
I don't have any experience with regular taxis, so I won't mention them here. These are available, though, and I see people flag them down all the time. I'm personally not inclined to take one since the ride-hailing apps eliminate the language barrier and any risk of being overcharged. From what I've heard, though, the way it works is that you'll stop a cab, tell the driver your destination, and agree on a price with him before you get in the cab. If he says no, just try it again with another one. There won't be meters in the cabs, so don't freak out about that.
Marshrutki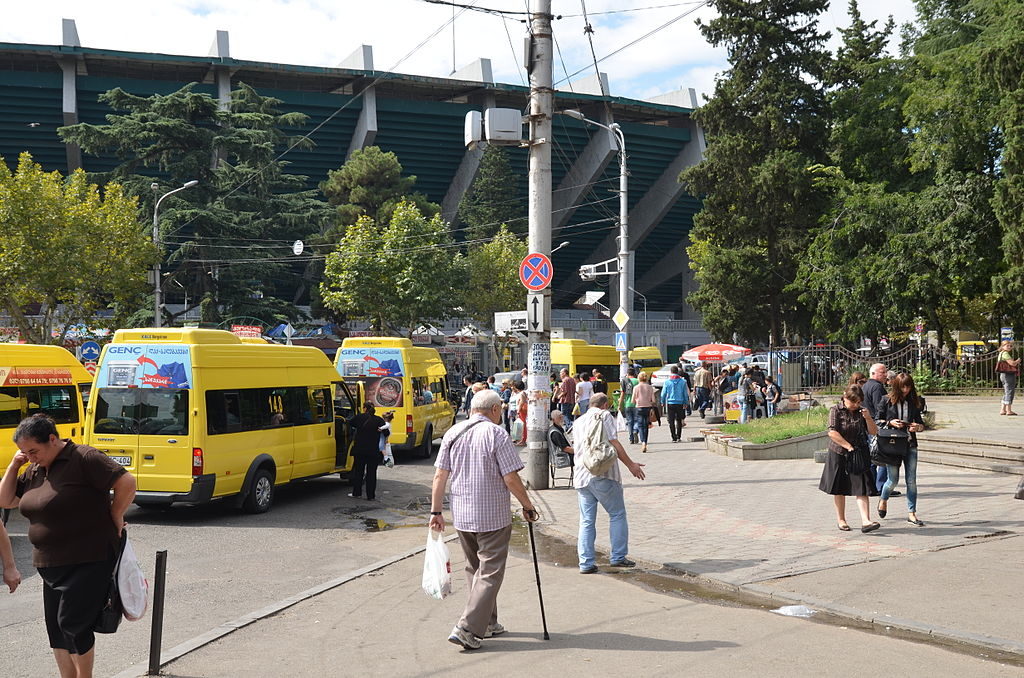 These are nice-looking yellow vans that drive around on fixed (semi-fixed?) routes. When I figure these out I will write something about them! As of right now, I am clueless. All I know is that you can pay with your transport card.
Getting around Tbilisi is really easy
While a city of 1.5 million might sound big to some people, it's fairly small compared to a lot of other cities. You don't have to go very far to get between the major areas, and you have a lot of transportation options, all of them very reasonably priced. I personally prefer to take the subway whenever I can, but if it's late or I'm in a hurry I'll opt for a cab. Buses are for getting wherever the subway doesn't go, and occasionally they can get you closer to your actual destination in less time (especially if you have to make that Station Square transfer).