Megobrebi means "friends" in Georgian, and that's what they make at their brewery alongside some truly delicious beer. Though it was a touch difficult to get to—it's located a 20-30 minute ride outside the city–the firsthand look you get into the Georgian craft beer scene is worth it, as are the fresh-brewed beers on tap and the food. There aren't many brewery/taproom combos open to the public in Tbilisi/Georgia as of 2019, which makes this place and the international team that runs it all the more special.
Georgian beer markets: Megobrebi's beers and where to find them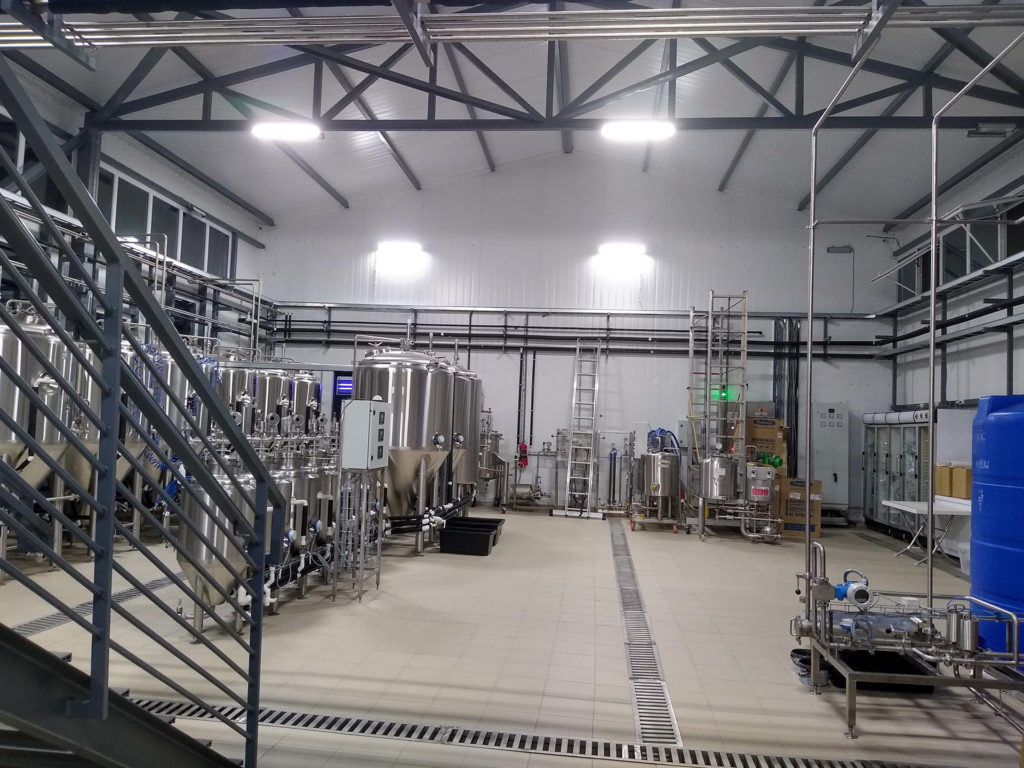 Probably the most interesting fact I learned on the tour of the brewery was that 80% of Megobrebi's beer sales are exports to places like Sweden, Singapore, Taiwan, and other countries with more developed craft beer markets. This is apparently because craft beer is still very much a new trend in Georgia, so the domestic demand, especially among the older generation, just isn't high enough at the moment.
Yar, the guy who led us through on the tour, said he expects this to change over time, but they're satisfied with where they are at the moment. In the meantime, if markets like that are enjoying Megobrebi's beer, paying up to $15 a bottle in a place like Sweden you know it's got to be pretty good—and you can get it for 5 lari here in Georgia! Even the labels are painstakingly designed for maximum effect, with up to four people collaborating on each one.
The general newness of craft beer to Georgia is also why you're not going to see quite so many gonzo flavors as you might in other countries. Maybe you want a dry-hopped basil-chili New England pale ale, but the guy at the bar who usually drinks Natakhtari or Icy might be a little overwhelmed by that, so slowly introducing pale ales, IPAs, and stouts with a few easy-drinking lagers and pilsners mixed in is the way a lot of Georgian breweries have decided to go.
If you're lucky enough to find a bottle of Megobrebi at a bar or restaurant (they're not in any grocery or convenience stores, as they have to pay pretty steep upfront fees and comply with a lot of bureaucracy to make that happen), it'll probably be one of their flagship brews, like:
Let's Dance (Georgian IPA with citrus notes)
Golden Fleece (Golden Ale)
Glass Cucumber (Cucumber Kolsch)
Tiflis Night (Sweet Stout)
The Hunter (APA)
Estragon Fire (Kolsch with herb flavors)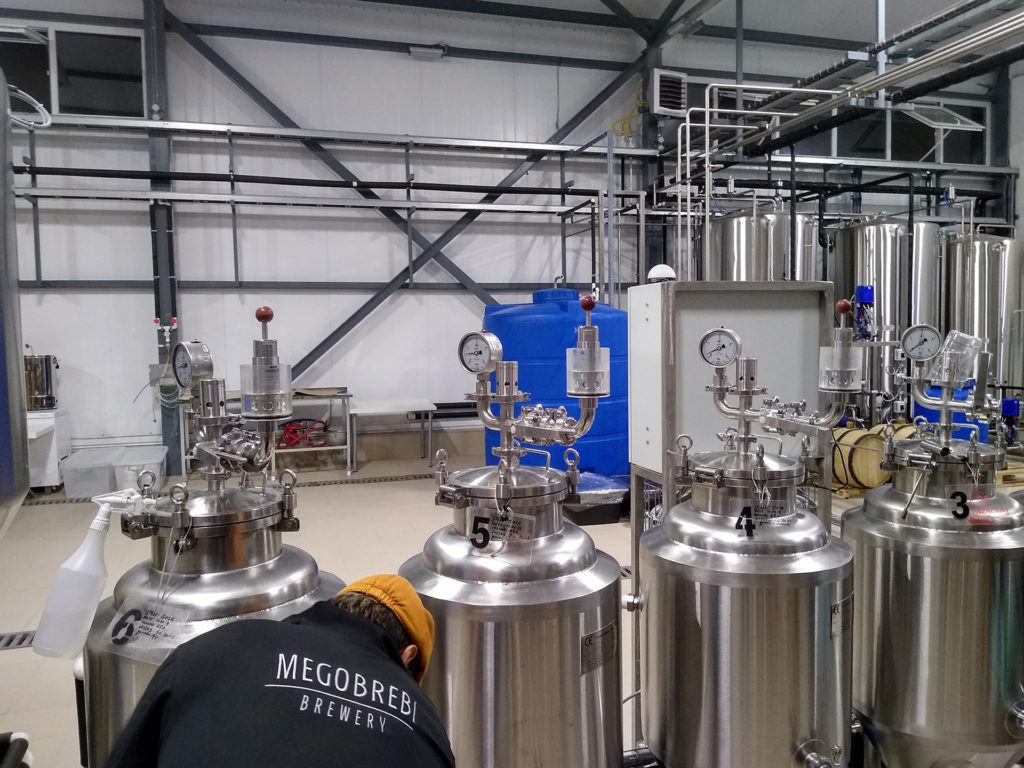 I've had most of these, and they're all very solid! What you won't see outside the brewery very often, though, are their small-batch experimental beers—especially the sours. Sour beers are usually a style that only appears in mature craft beer markets in my experience, since they're so far removed from what the average consumer thinks of as beer, so Megobrebi almost exclusively exports these. If you go on the brewery tour though, you might be lucky enough to get a taste. These change all the time, but when I was there they had blackberry-tarragon (I think), raspberry-mint, and a peach-like one. Raspberry mint was my favorite, personally.
Since Megobrebi's primary Georgian distribution is to bars, you'll just have to visit craft beer bars until you know where to go for your fix! I've definitely seen them at Sma, and Untappd check-ins are a good way to see where people find them.
What to do at the brewery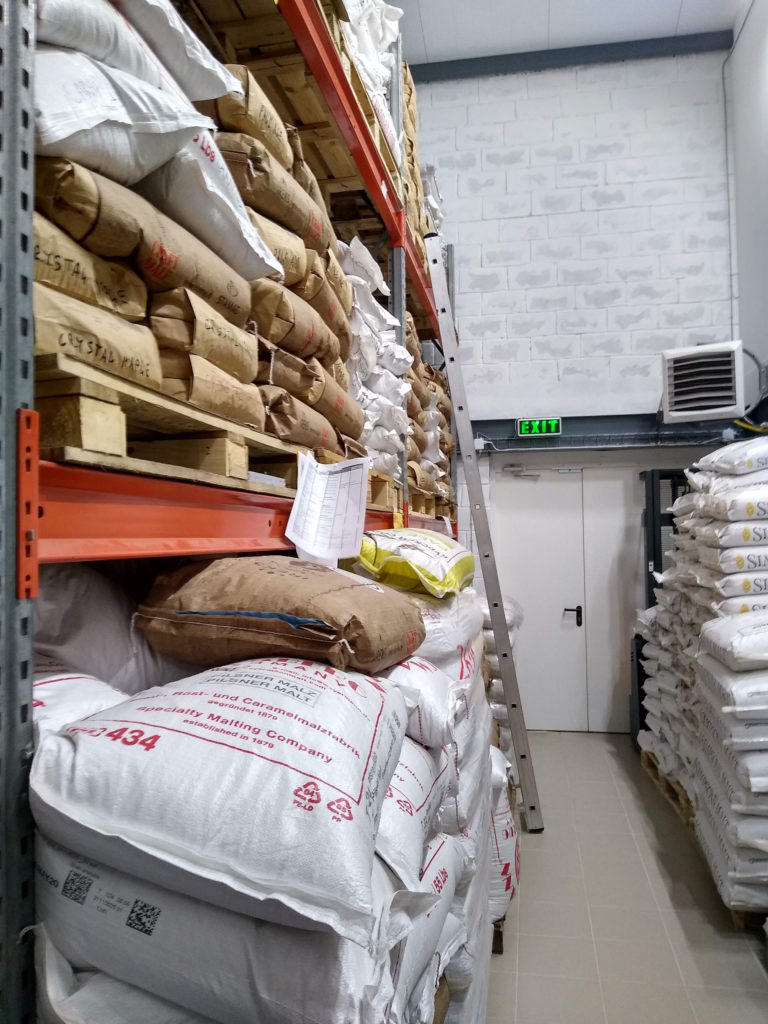 Reaching Megobrebi brewery is a bit of a trip, so it's probably not going to wind up on your list of Friday night hangout spots. If you go, then, it's worth going all in and doing the full package: brewery tour (25 GEL) and just hanging out in the beer garden outside the brewery. The tour includes four 100ml beer samples and a nicely-arranged plate of cheese, meat, olives, and peanuts, plus some cool insights and Q&A time with one of the friendly brewery guys.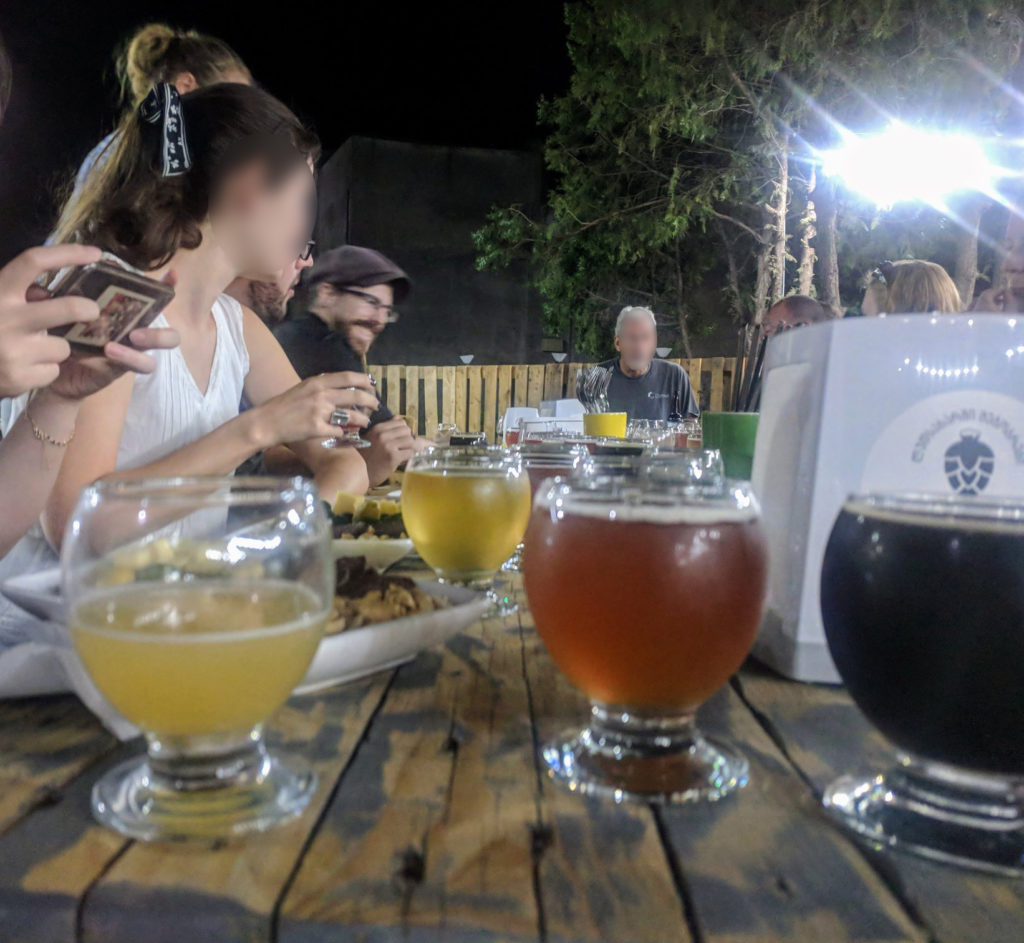 The outdoor sitting area is also quite nice, with plenty of tables and quite possibly some adorable dogs that will stare at you with their big eyes until you feed them. They have bottomless stomachs, though, so the eyes inevitably come back.
If you pre-ordered any food (you can't just show up and get a menu; they have to prepare stuff), you may find yourself sharing it with the dogs simply because you can't finish it all. The cheese plate alone is pretty large, so if you order something extra it'll be a tough slog through all that food. The smorrebrod sandwich is good if you like the Scandinavian-style dark bread and salted fish; the Canadian fries are pretty good for fried potatoes, but not very poutine-like.
Everyone there is awesome and friendly, though, and since a lot of them aren't even Georgian (Russian, Swedish, Singaporean, American), their English is quite good and they're always happy to talk about what they do.
Getting to Megobrebi Brewery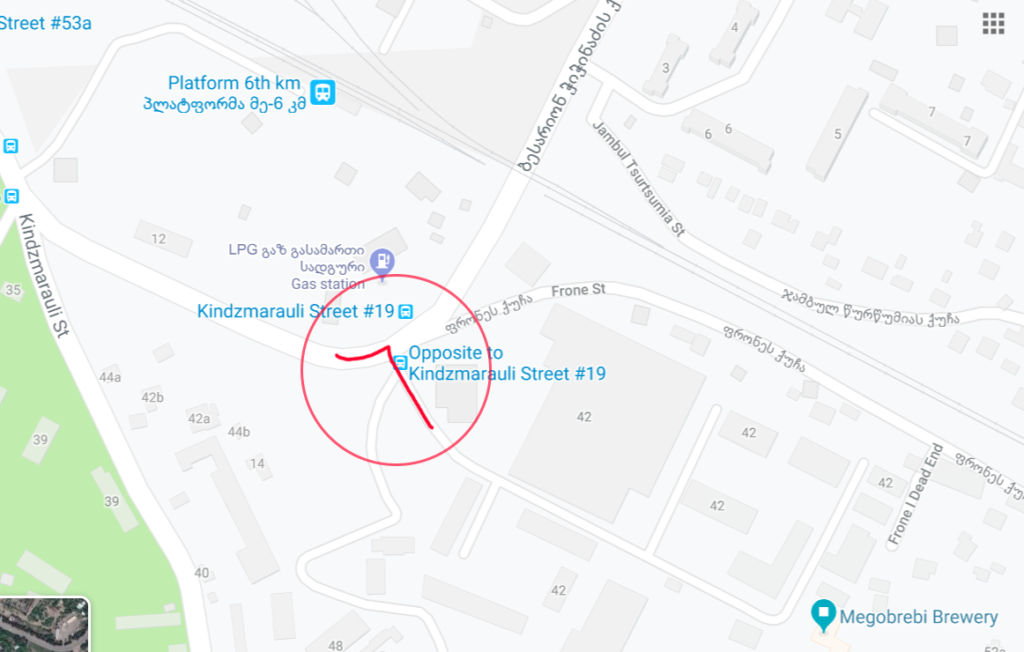 If you've discovered that Megobrebi exists, congratulations! You passed the first test. The journey has only just begun, though—depending on your luck with transportation, you might get there in twenty minutes or an hour.
First off, you should contact the brewery via Facebook, Instagram, WhatsApp, or phone to check that they'll be around when you want to visit. They sometimes have private parties or early closing times, and you have to book food and tours in advance, so it's worth getting in touch.
Secondly, the quickest way to get there is by car (subway/bus is also possible, but may take 45 minutes to an hour; not bad if you have time I suppose!), so you'll need to either have someone who can drive (and not drink too much!) or nab Bolt/Yandex taxis. That second one is where things can get rough, as Megobrebi is not a well-known destination and it's tucked away off a highway south of Tbilisi, in the general direction of the airport. The entrance is hard to spot, and at night it looks like an abandoned/closed road, which inevitably confuses a lot of drivers.
Our experience wasn't awesome, unfortunately: our first driver, an older man driving a Yandex Taxi, straight-up had no idea where to go and didn't seem to know how to use the GPS function or Google Maps, so after a few minutes of confusion we got out of his cab and hailed a Bolt. The Bolt driver seemed to know where he was going for about 75% of the trip, even asking a policeman for directions, but it quickly deteriorated into passing the turn multiple times, going the wrong direction on the highway, calling the brewery for help a few times, taking a smoke break, and finally arriving a good hour after we'd originally planned.
The other two cabs carrying the rest of our group had arrived by this time, but one of them had also gotten pretty lost—so 2/3 failure rate on finding Megobrebi easily! To cap it all off, I noticed afterwards that Bolt had changed my original price (10 lari) to more than double (22 lari), probably because of all the extra time it took. I don't know why that happened, but I'd already tipped the driver extra in cash because I felt bad that he lost so much time on us, so I wasn't extremely happy to see how much the bill had been hiked up. ~7 USD isn't a huge deal for such a long ride—in the US it might have hit 50-100 for sure—but given the circumstances, sort of insult to injury.
Anyway, I learned a few things from this experience:
Leave way earlier than you think you need to
Have the address in Georgian ready on your phone
Ride in the shotgun seat next to the driver with your phone out and Google Maps on so you can track your progress and provide input
As a last resort, call the brewery.
If you do all that, you stand a pretty good chance of finding the brewery! And you may even get lucky and get a driver who's a pro at using the map.
Fortunately, leaving Megobrebi worked out pretty well for everyone! All the cabs managed to find their own way their to pick us up.
Verdict
Megobrebi is a great brewery with wonderful people and high-quality beer—it's definitely a must-see in Tbilisi if you're interested in the craft beer scene! It's not very accessible geographically, but it's certainly one of the most welcoming craft breweries you'll find in Georgia. Tours and taprooms aren't really a big business here yet, so this is one of your best shots at getting inside the up-and-coming Georgian industry.
Phone: +995 595 12 23 99, +995 599 50 39 67
Email: info@mgbrew.com
Address in Georgian: 42 გარდაბანის გზატკეცილი, თბილისი 0168