There are few ways to go about finding an apartment in Georgia: agents, Facebook (though this is also mostly agents), and real estate sites. Personally, I think going through an agent is a pretty good idea since many of them can help with the whole language barrier issue that you'll likely run into if you don't speak Georgian (or possibly Russian). If you're more of a DIY type, you can try to find owners and deal with them directly on Facebook (though many listings on Facebook are also by agents), or you can use one of the real estate websites that seem to be everywhere (though these are also populated by agents).
I don't have direct experience dealing directly with owners, so I can't speak to how easy that may be—I've heard from some people who have done quite well. For me, though, since I had a midrange budget, no language skills or Georgian contacts, and wanted to get into an apartment fairly quickly, it was agents all the way.
Real estate agents in Georgia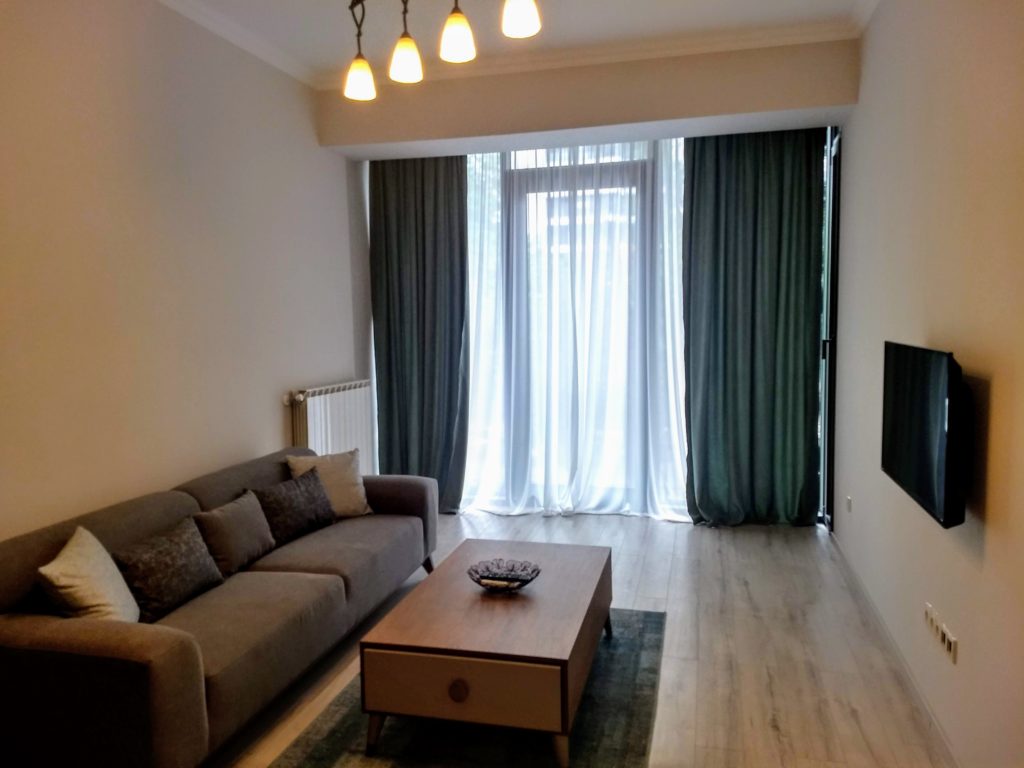 Using an agent to find an apartment in Georgia is probably the easiest way to go about it, and it doesn't cost you anything up front. Since the owner pays the agent for finding the tenant, though, they often don't want to do anything too short-term, so many properties found through agents will want a minimum lease of 3-6 months. That being said, given the saturated market in Tbilisi right now, there's a lot of flexibility on lease length and many agents also offer short-stay properties.
To find an agent, check out:
Their website (if they have one)
Their Facebook page/activity on Facebook rental groups
Their profile on a Georgian real estate site
The Dry Bridge, where you can find some agents in person (if you speak Georgian or Russian)
Finding agents on Facebook groups isn't a bad idea since they have a social media reputation to uphold and might lose future customers if they're not honest. If they have a company with a website, that's also great—it shows that they're putting in enough effort to actually maintain a working online homepage and some listings. You can also use the search feature on the expat Facebook group "Georgian Wanderers" to look for agents that the community has used and recommends.
You can either choose an agent who seems to know their stuff and tell them your requirements, or you can just watch and wait for them to post something you like on one of these platforms. If you contact them about a property, especially one listed on a non-Facebook site, you should be prepared for the eventuality that it's not actually available—like many places, there are a ton of fake listings put up to lure people in—but they'll probably offer to send you pictures of a few different apartments or houses and show you around. With any luck, one of the properties you see will either be the listing you were interested in or at least similar to it.
You may be able to cut a better deal by negotiating directly with owners, but using agents does save you some hassle and make it easier to look at multiple options.
 I worked with two agents, both of whom sent me plenty of nice-looking listings. I only ended up touring with one of them, since my wife and I found a place we liked right away. Both were very helpful, though, and I can personally recommend WeRent.ge. I'll detail more about my actual hunt with them in a later post.
Websites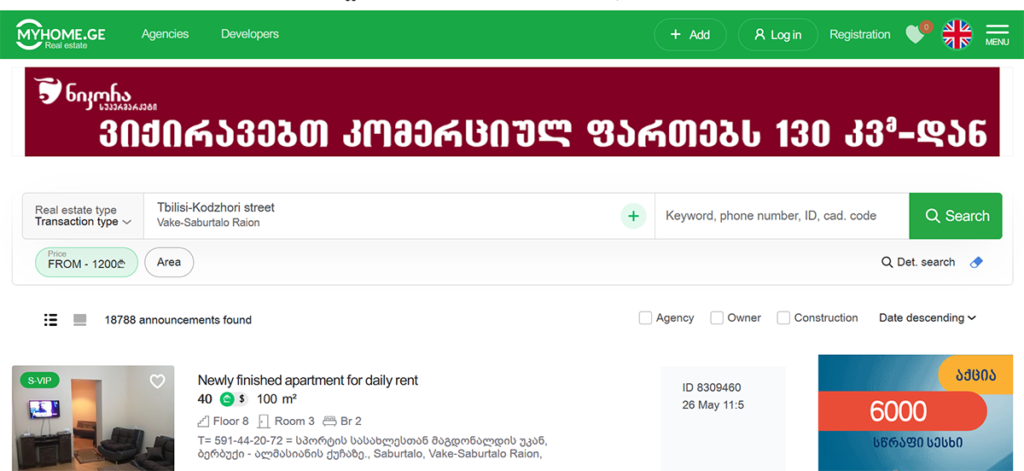 I'm not sure why there are so many sites for such a small country, but there are. Here's a list:
People often recommend MyHome above the others, as it's well laid-out and has an option to filter for listings by owners only, but all these sites have a good number of places available. They're a great way to get familiar with what you can expect in different parts of the city, as the prices and amenities do tend to be pretty in line with reality.
What's less in line with reality, though, are the actual listings. The vast majority of them are from agents, and in order to stay competitive a lot of them have turned to spamming these sites with fake listings, hoping to pick up people who are interested and then switch them to a different spot. If you send a message, you'll possibly get back some variation of "Sorry, that property has been rented, but we have other options you might like." That's why it's popular to avoid agents on these sites and look for properties that are listed directly with the owners.
If you're going to be using an agent, then, you may as well look for one with a decent reputation in the expat groups rather than the one trying to bait you with fake properties. The sites can be a good resource for actually finding a place if you're willing to weed through them, but they're especially good for getting a feel for the market in different areas and general window-shopping. I mostly used them for research rather than finding actual properties.
Facebook groups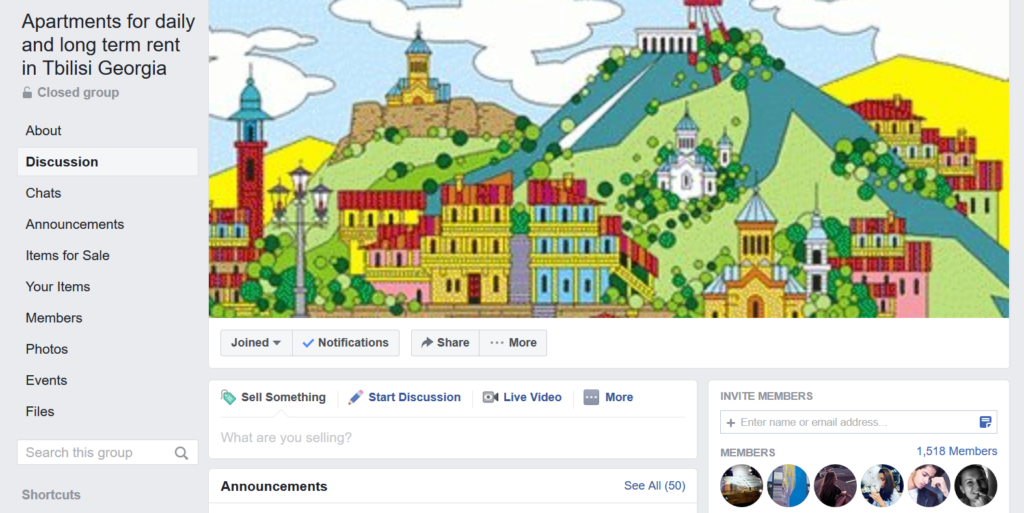 As much as I get annoyed by the privacy shenanigans, Facebook is a wonder of the modern world, and if you're not using it to smooth your road as you travel, you're missing out. In my experience, every country and major city has its own groups full of international people helping each other out, with buckets of useful information usually just a search away (if you don't know how to use the search feature in Facebook groups, you should definitely learn). Some groups can get a bit mean-spirited (it is the Internet), but if you ignore that you should have a good time. Luckily, the Georgia international groups are, with a few exceptions, extremely nice—people are very helpful and nasty remarks tend to get shot down.
For Georgia, the biggest Facebook group is Georgian Wanderers, followed by Expats in Tbilisi (other cities have their own groups as well). These are a good source of general information, and you can often find people recommending agents, neighborhoods, and other apartment-related things based on their own experiences.
There are also what seem to be dozens of real estate Facebook groups. The only explanation I can come up with is that there's some sort of contest between different agents all trying to run their own groups, because most of the pages seem to be run by agencies and populated with ads from the agents (though owners are also present). That doesn't mean they're offering you bad deals or trying to trick you—it just means you'll have to join a few groups to see everything that's being offered—though the agents do also allow in other agents and there's a lot of duplicate posts across the groups. Here are a few examples, though there are plenty more:
The prices may be a little higher than you see elsewhere, as they are higher-value properties being marketed specifically to foreigners. You can often negotiate, though—the agents and owners can be talked down if you seem serious about it. If you're paying more for a property listed on Facebook than comparable properties on MyHome or Place, you may be able to hold out for a better deal; as of 2019, it's very much a renter's market.
If you want something more budget-friendly and don't mind sharing a place, there's always Flatshare in Tbilisi.
General tips
If you're going to use an agent, look for information about them—have they helped other people?
Using several agents is fine, as long as you're upfront with them about this. Indeed, you'll probably get people contacting you if you join and/or post in any Facebook real estate groups. Be polite and honest and they'll probably return the favor.
Tbilisi is cheap, but don't expect to get every item on your wishlist at below market rate. Use the websites to get a realistic picture of what you can expect at your budget.
Negotiating is fine (though sometimes they will list a property as "last price," to indicate that there's no budging), but unless you feel like you're getting an unfair price, don't push too hard. If something really is out of your price range, let the owners know; you can either part ways amicably or make a deal that works out pretty well for the renter. A lot of owners want to fill their places right now, so you may end up doing pretty well.
The Facebook groups can be time-consuming to weed through. Use the "save product" feature to make sure you remember which properties you liked.
Prices will tend to be quoted in USD and/or lari. You'll probably be paying in USD, so go by that price.