Finding an apartment in Tbilisi was pretty easy for us. While I got a little too serious about neighborhoods, agents, transportation, and a million other things for a few months before arriving, when it came right down to it we pretty much just landed in Georgia, told some real estate agents what we were looking for, and got a place. I've posted my general impressions of the process already, but here's how it actually went down.
Phase 1: Unnecessarily obsessive pre-landing recon
As someone who does way too much research on everything, I ended up browsing across a lot of random sites, about half of which inevitably ended up being related to the other Georgia—the one with the peaches. The most helpful resources for me were actually on social media—there are a few blogs, but they tend to be either outdated or focused more on Georgian culture/politics than the nitty-gritty realities. I learned a lot of cool stuff about how to eat and sightsee in Tbilisi from all the travel blogs, but very little about actually living here. That said, here's a list of the sites I used for my research:
After looking around at all the available information, I was pretty sure that the Saburtalo area was where we'd end up living. The Old Town/Vera area looked nice, but prices were a little steeper and the places were older. Saburtalo is a little further out, but not as much as many other areas, and the prices/apartments I was seeing there were a lot more attractive. Besides, Tbilisi has a good metro and bus system, and the Bolt/Yandex ride-hailing apps are pretty cheap and easy if you need them, so living in the middle of the action wasn't quite as essential as it would be in a city with a less-developed transportation network.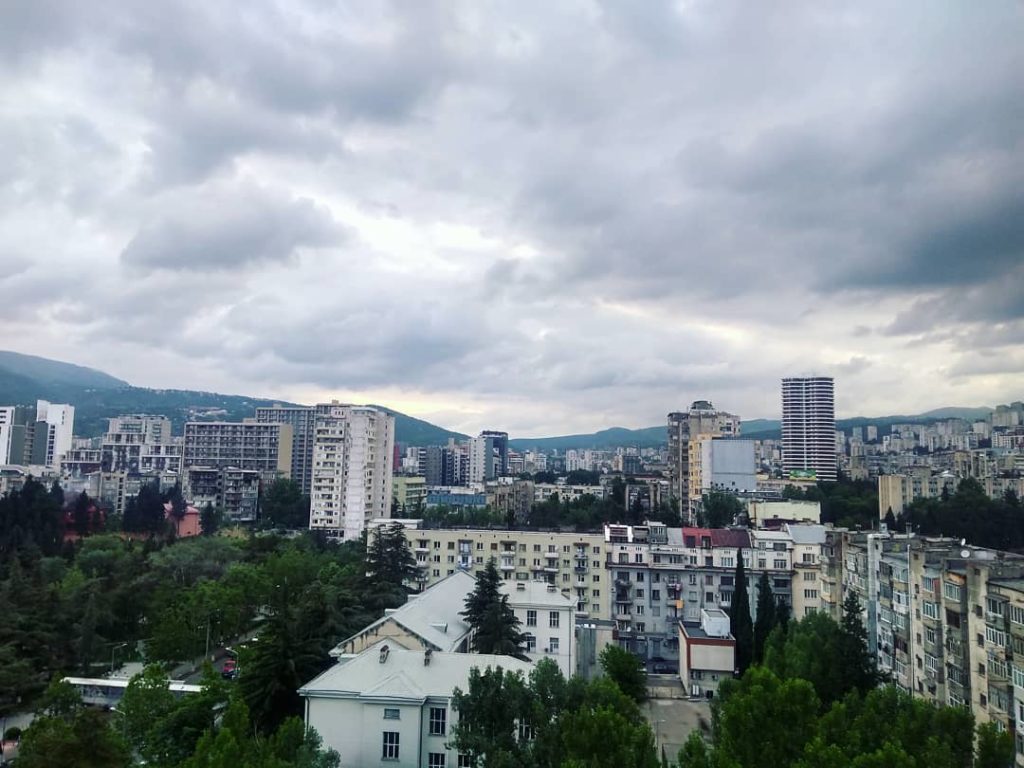 Spoiler alert: I did end up living in Saburtalo, and I think I was pretty much right: getting downtown isn't much of a hassle and there's still plenty of decent stuff within walking distance. Plus, I've got easy access to the old Hippodrome Park, which is one of the biggest green spaces in the city. If I was only staying a month or two, I think I might have gone for a place in the Old Town since it's just a much cooler-feeling area, but I'm here at least eight months, so this area is perfect.
I also got in touch with a real estate agent and joined some of the Facebook real estate groups. I used Werent.ge as my main agency since I really liked the look of their website. If I'm being honest, it's probably because they were using the same real estate WordPress template as the agency I used in Chiang Mai. Another agent, Facebook name "Flat Rental Georgia Shorena" also contacted me via Facebook and offered me some good options. There are several other agents hanging around the Facebook groups as well.
The vast majority of places on offer seem to be higher-priced, nicer flats geared towards foreigners, though, so don't expect to pick up a place for $200 a month if you use this option. The average prices are very much in the $3-500 USD range on the Facebook groups. That's still a pretty good deal for me, as an American, but if you're really looking to budget you'll have to get off Facebook and get more local with it.
Phase 2: Landing and getting our bearings
We flew in from South Korea, with the flight broken up by what must have been the world's weirdest layover in Novosibirsk airport. As two of the three international transfer passengers on our very early morning flight from Seoul, there was pretty much zero infrastructure in place to get us to our next flight, so they just let us slip past immigration without a visa (at least, I think that's what happened after some phone calls and consternation) and escorted us through what seemed like a maintenance access section of the airport to the international terminal where we waited to get our next flight. Still better than an international transfer in Shanghai PVG.
We actually ended up befriending one of the players on the Georgian national rugby team on the plane, and once we landed he helped us get a taxi into town, buy SIM card, and drove us to our AirBnB. A pretty fitting introduction to Georgian hospitality!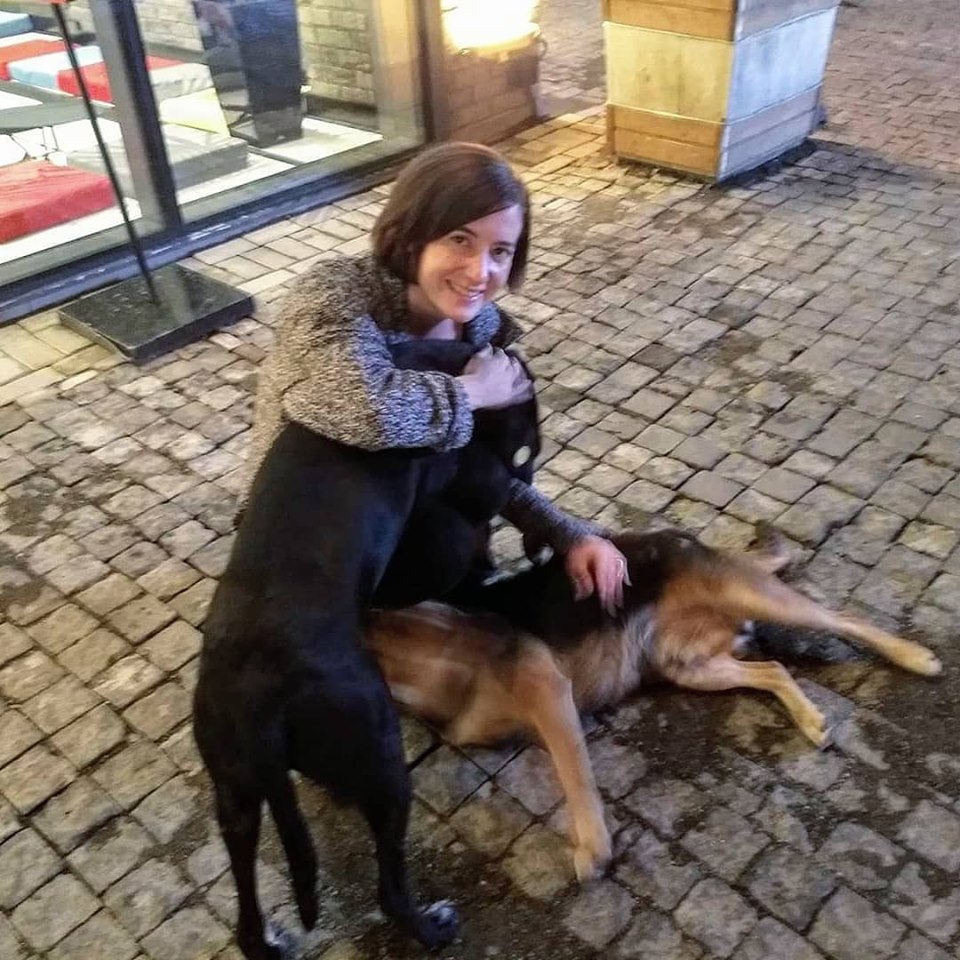 Once we settled into our place in a Saburtalo high-rise, we spent the next few days exploring Saburtalo and Old Tbilisi just to see what we were into; we didn't want to regret our neighborhood choice after making it. We set up a tour with Giorgi, the agent from Werent, for a few days after we arrived and were able to use the information we got from our walking around to narrow down the areas we thought we'd want to live—specifically, not too far from the Delisi or Medical University metro and also not too far from the Hippodrome park. Our specifications basically were:
A separate bedroom (we both teach online, so we need two rooms)
A decently modern apartment—it didn't need to be fancy, but good insulation and no bugs are always nice.
$450 USD or less. This is actually slightly high for rent in Tbilisi, especially if you don't mind living further from a metro or in a more outlying area, but we figured it couldn't hurt to see what was out there.
Higher floor (to avoid getting a lot of street noise while teaching)
Decent view (always a nice perk, though not required!)
Furnished (though this is pretty much a default in Tbilisi apartments)
Phase 3: Going on tour
The first place we looked at ended up being our second choice (and some of our friends actually came along and got it later! It was in the M2 at Tamarashvili building—pretty conveniently located, new, and overall very nice. It cost $400, which was very much in our price range, but it got slightly edged out by the view and convenience at our final choice.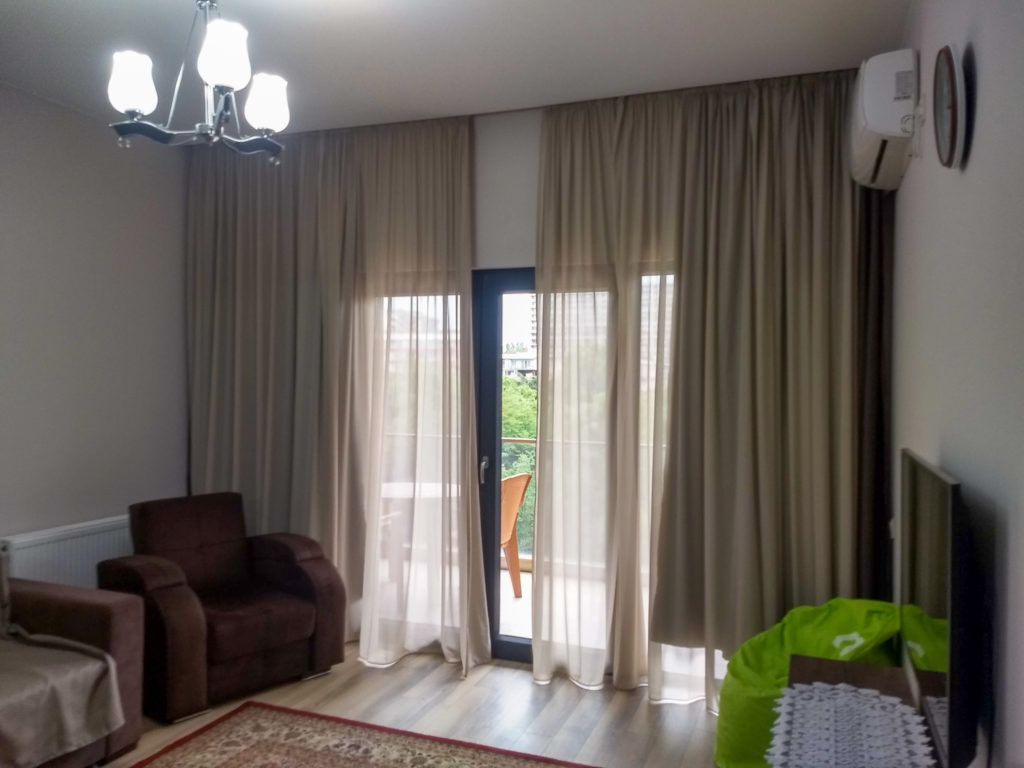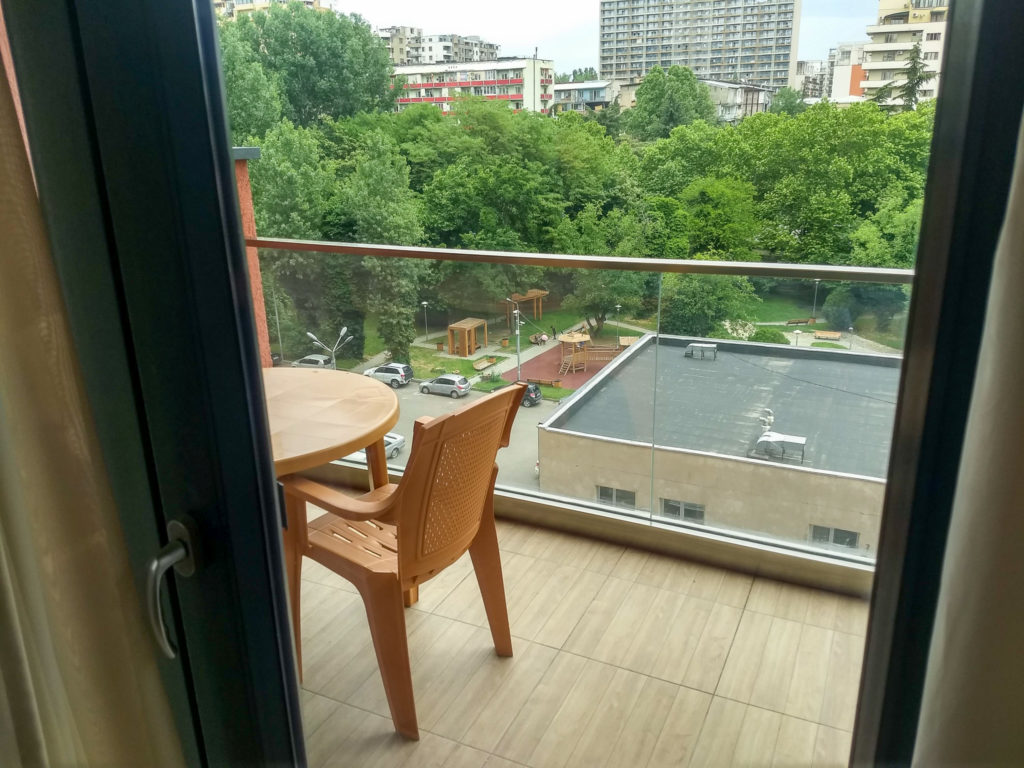 The next two or three places were all in a building developed by a company called Domos, I believe. The building seemed fairly nice, but some elements of the construction were either still in progress or someone had just decided to stop in the middle of stuffing bundles of wires into the wall. The apartments we saw here were all fairly nice, but only one of them was on a high enough floor for us to consider—with construction going on right next door, we couldn't risk having our video calls disrupted by jackhammering right outside our window.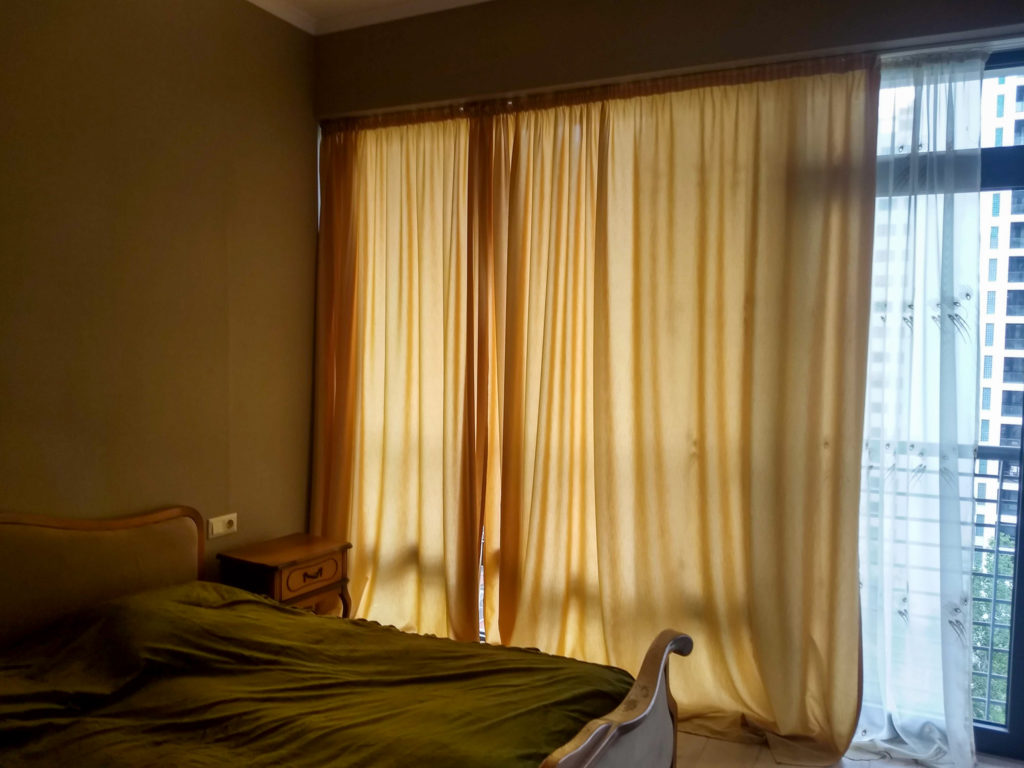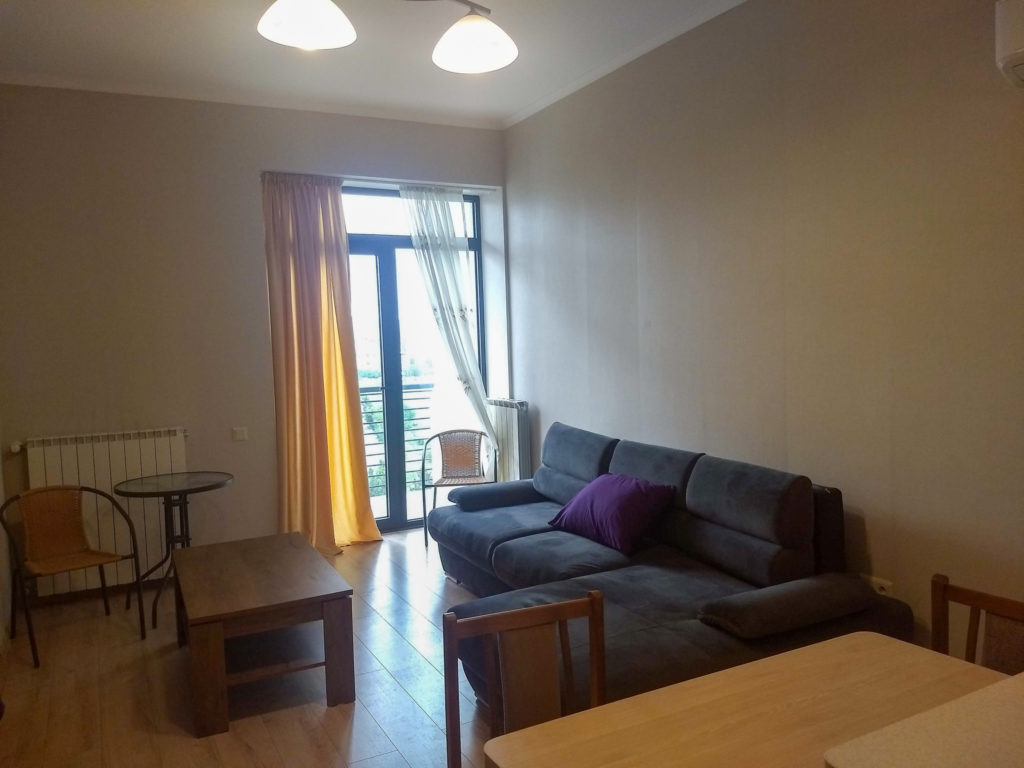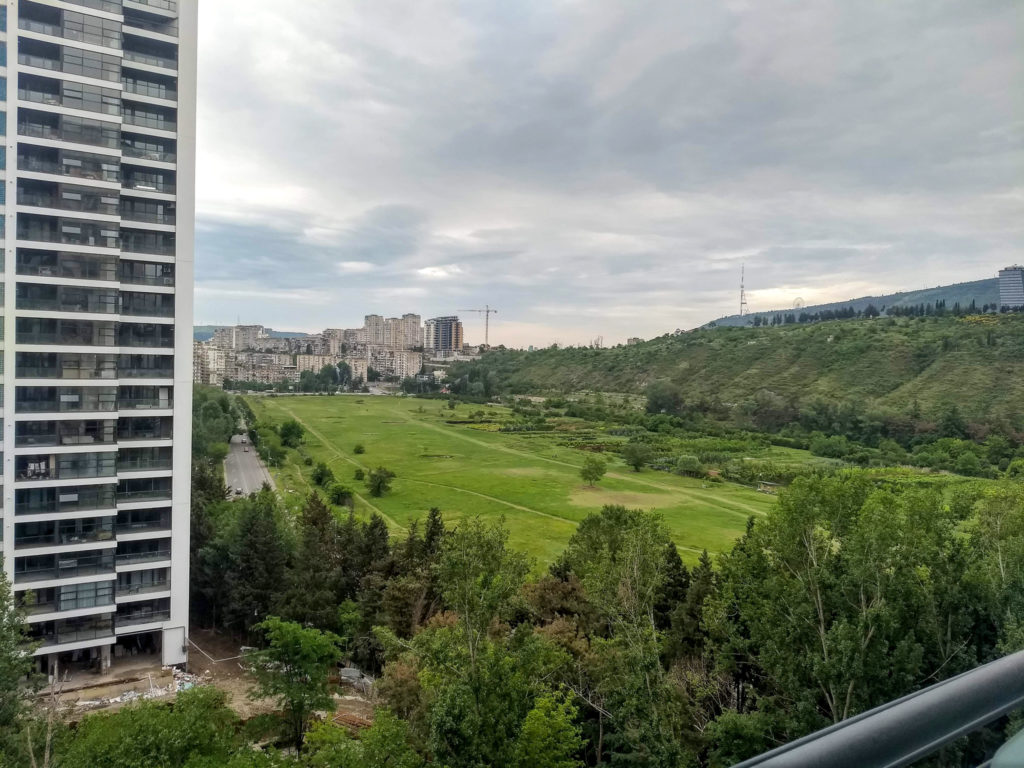 That apartment ($450 USD), however, had possibly cheaped out a bit on the interior design. Fun fact about Georgia—it seems most apartments here are sold as "White Frames," meaning when you buy a new apartment you're getting pretty much an empty shell set up with walls, door, electrical, plumbing, and other basics. The interior design is then up to you or whoever you want to hire to take care of it, so every apartment here will be a little different (or a lot!). That can be good or bad. Most apartments we saw had design ranging from "good" to "amazing"—but the one on the higher floor of the Domos building felt a bit more like someone had pulled the furnishings out of various old houses. Not the worst, but given the competition we weren't really into the antique look!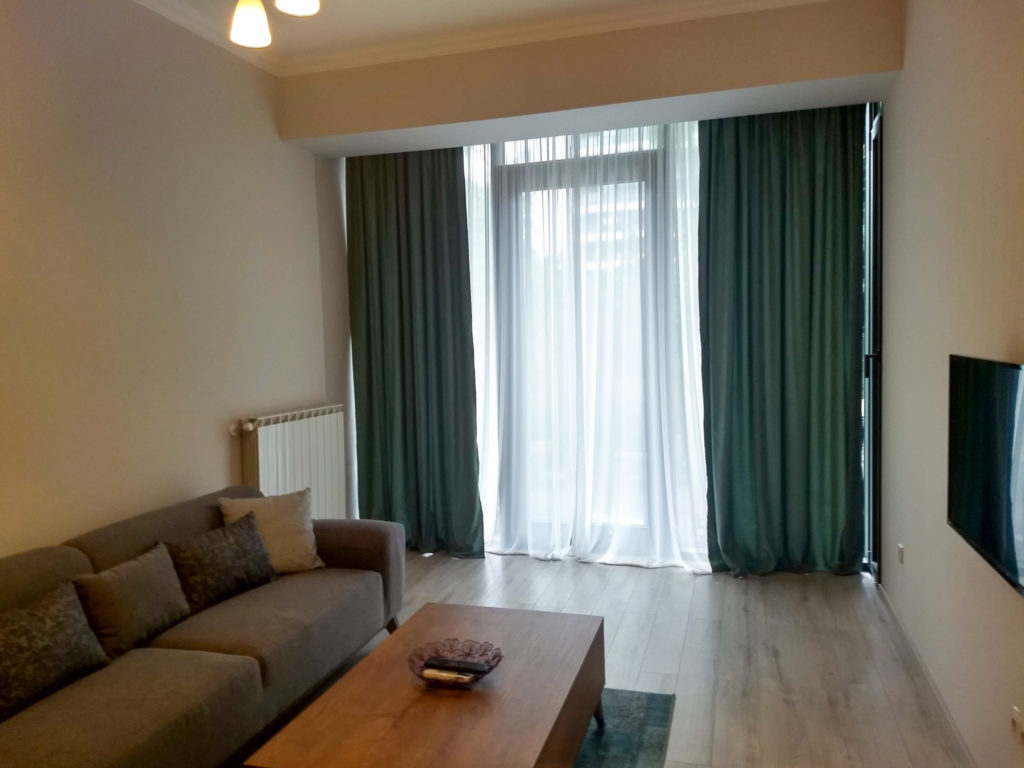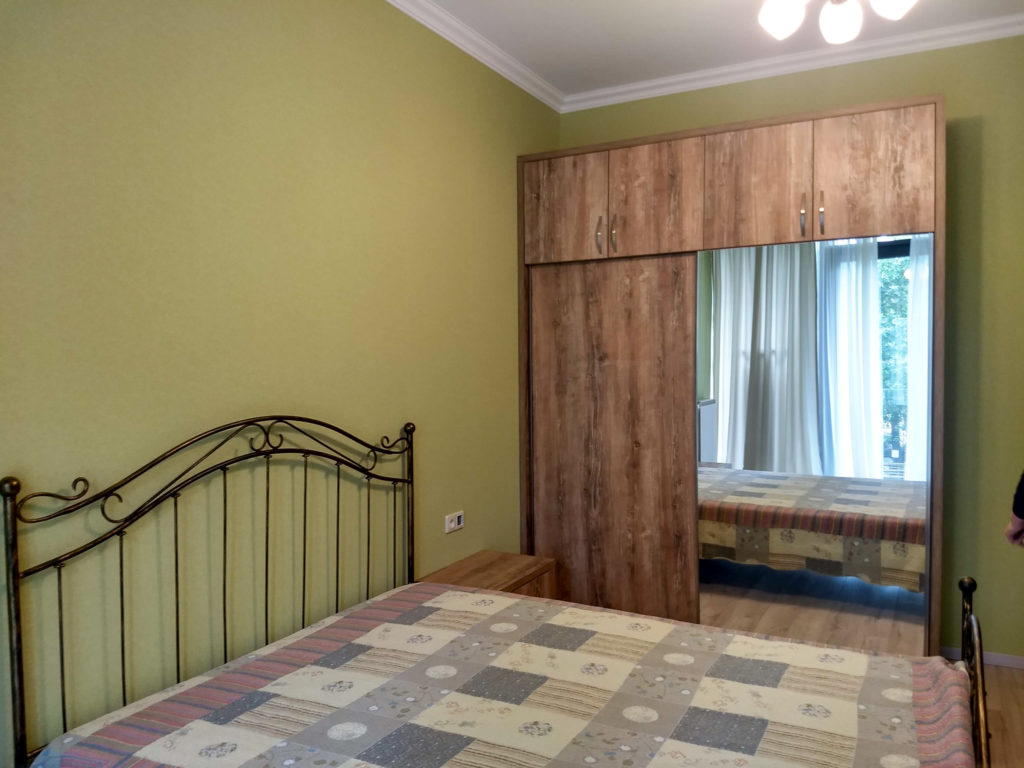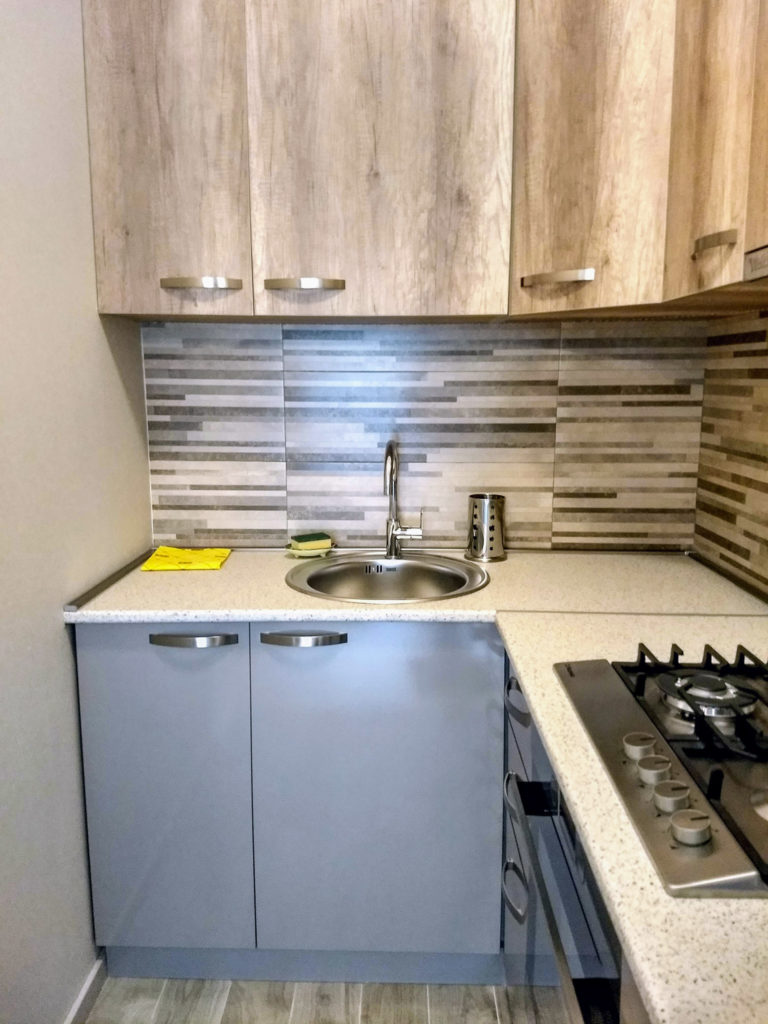 The ones on lower floors were maybe trying to make up for their lack of a view with an amazing interior—I could hardly believe we could even be thinking about places that nice. Again, though, the lower floors' potential for noise was an issue. Each of these was also $450 USD.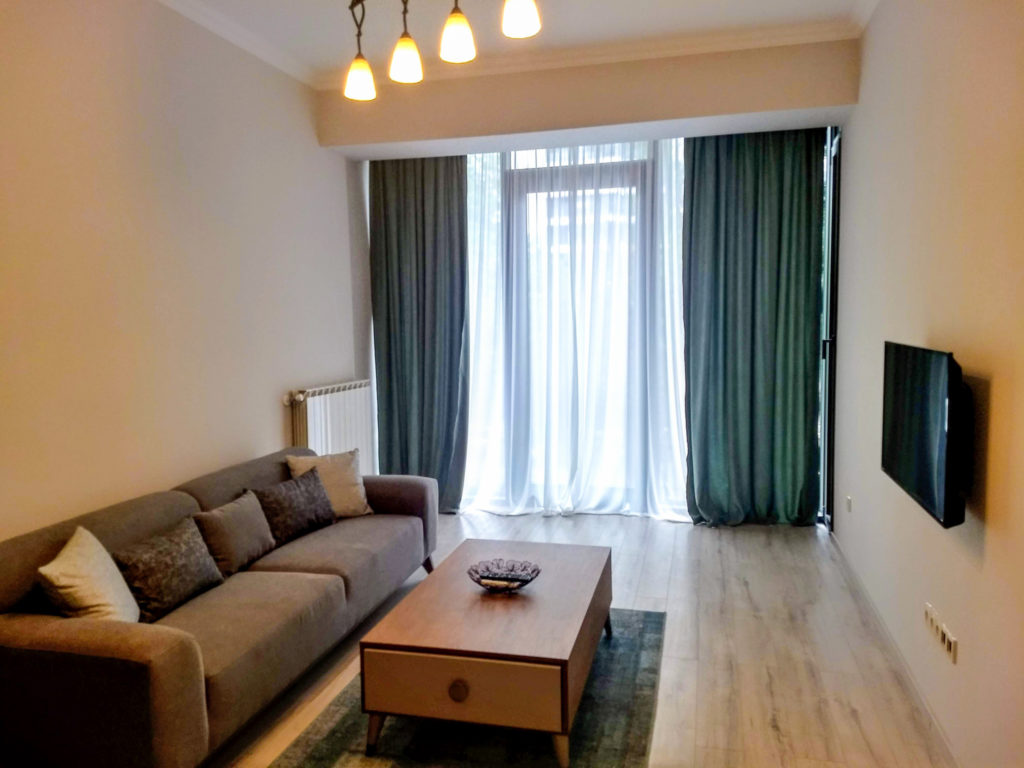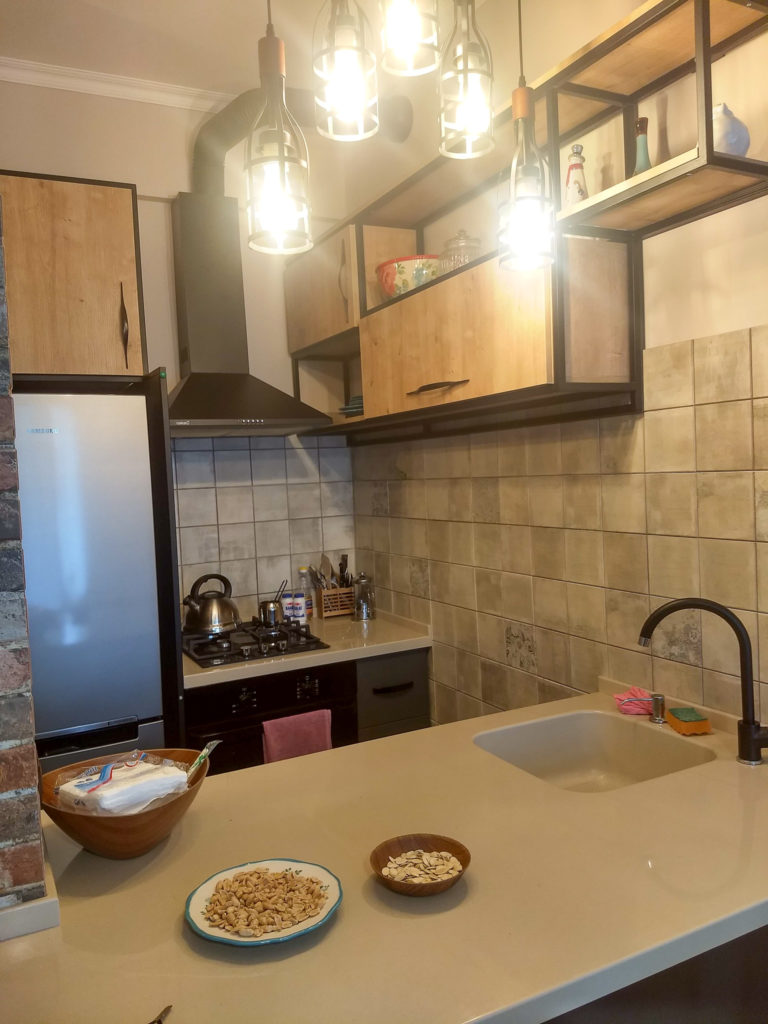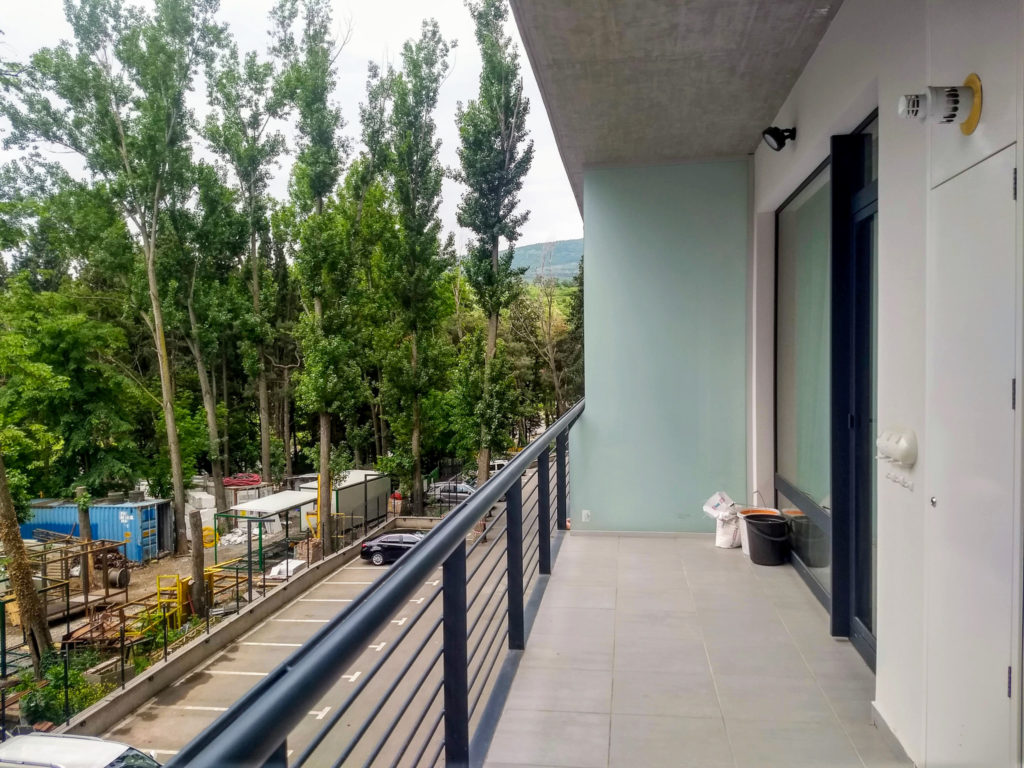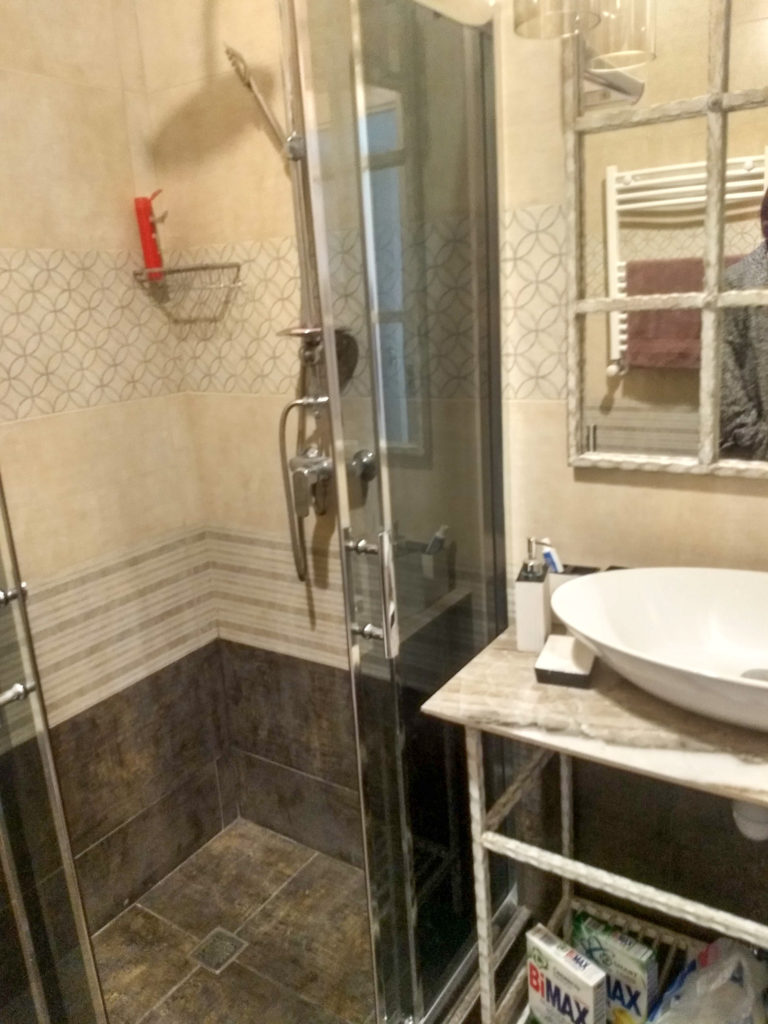 Finally, we got to the M2 at Hippodrome, which is actually the one we ended up deciding on. It was on a reasonably high floor, close to everything we wanted to be close to, had a convenience store and supermarket on the ground floor, and the apartment itself was really nicely laid out. Nothing extremely fancy, but definitely not shabby!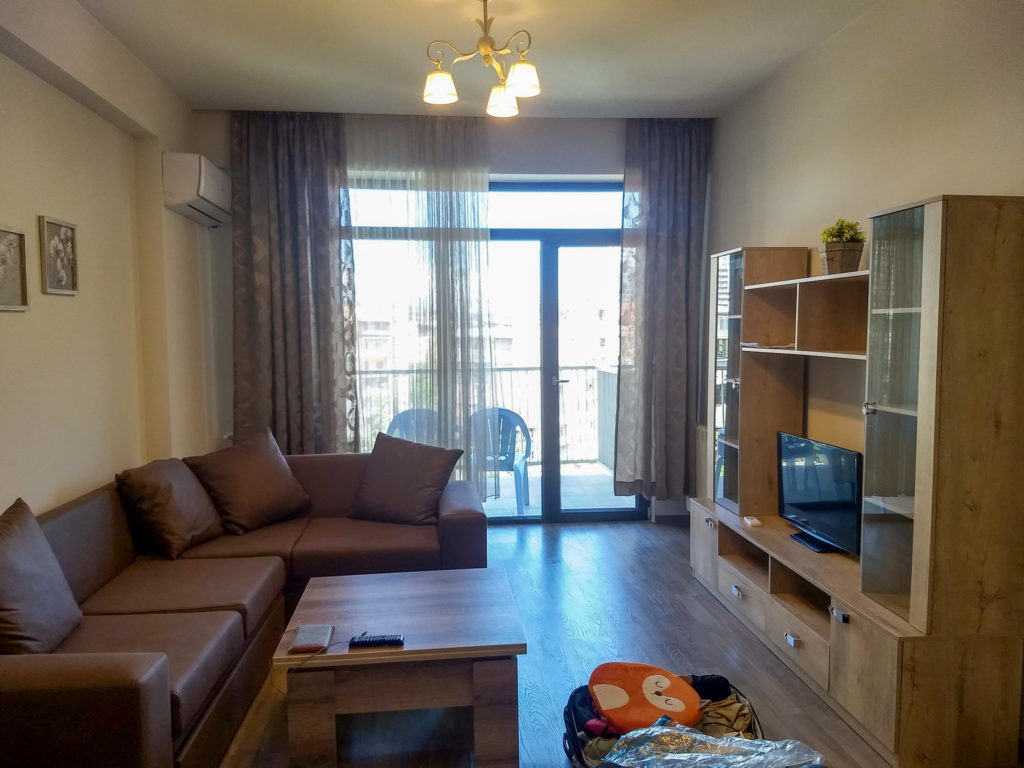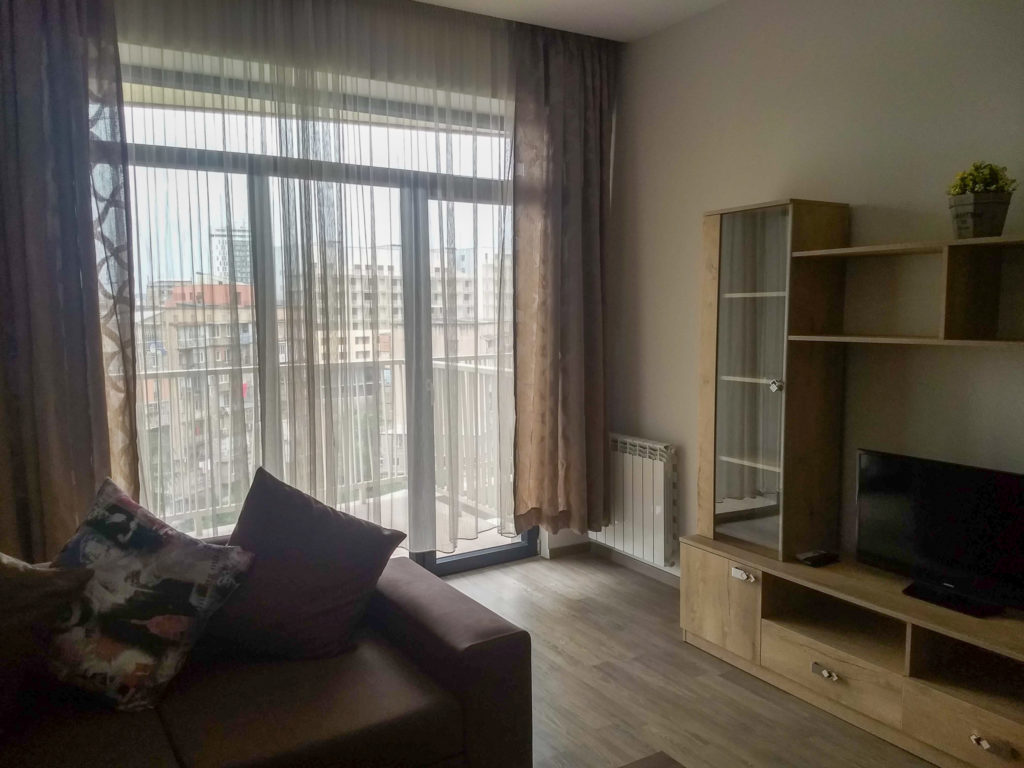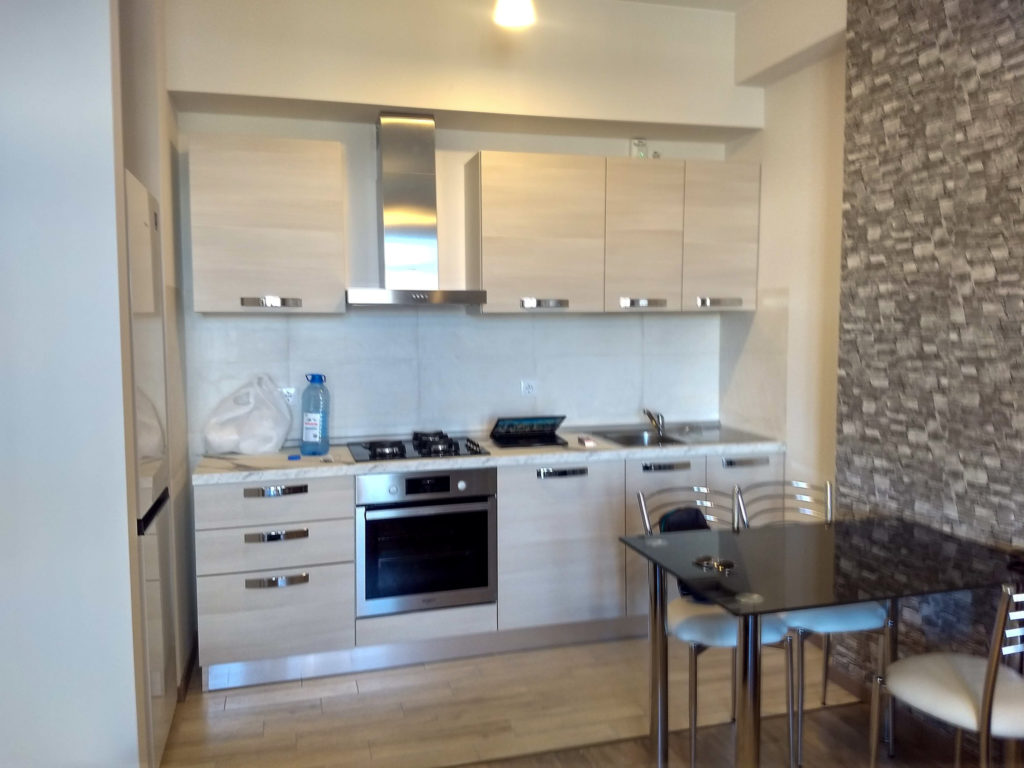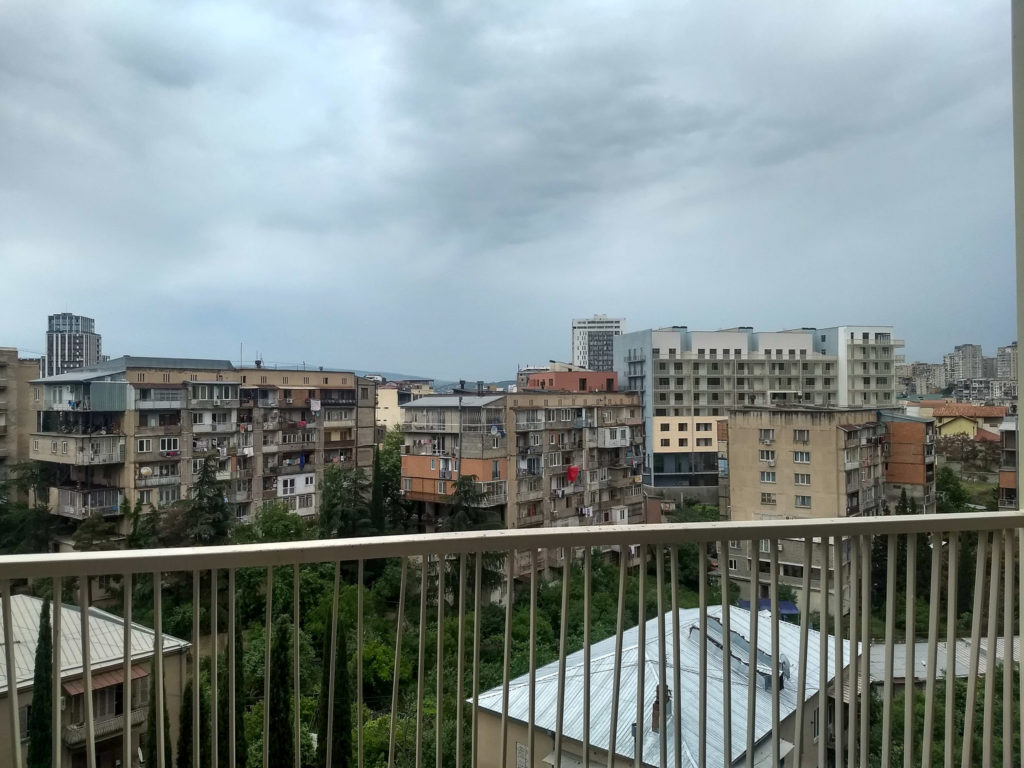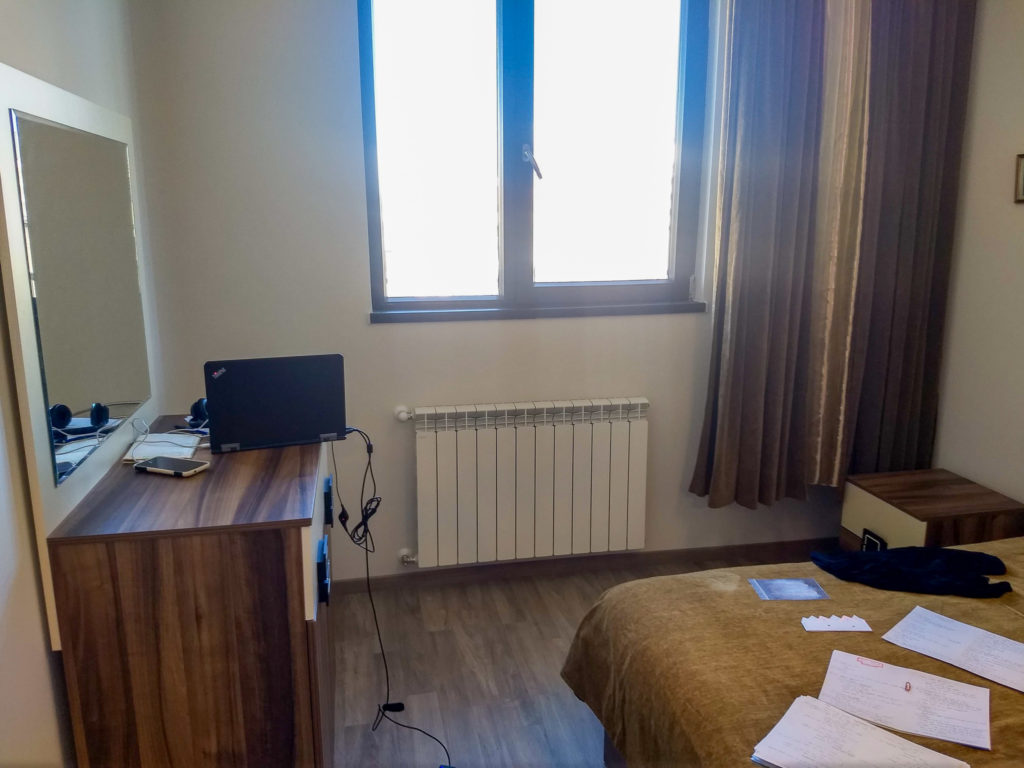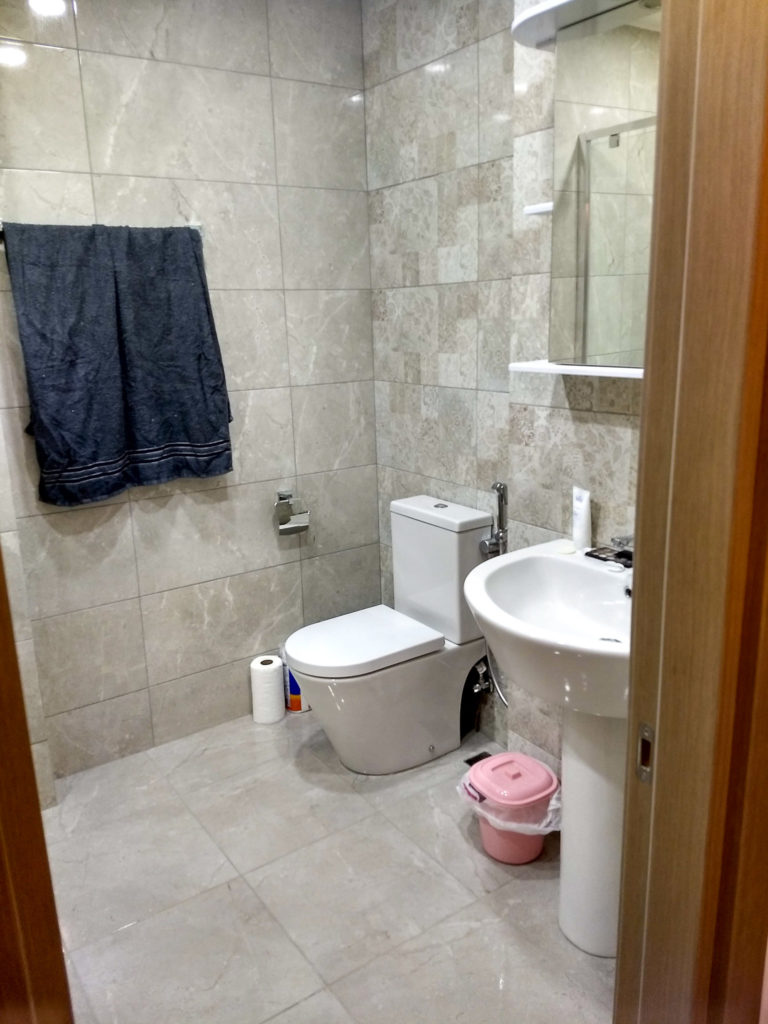 In the end, every place we saw ended up fitting most of our criteria. Actually, I wasn't quite prepared for just how big and nice all of the places were. We're used to living in Asia, where apartments tend to be quite a bit smaller (our last one-bedroom in Chiang Mai was 35 square meters, our current one is 60!), and we don't mind the small spaces at all, especially since they tend to be cheaper. If you like space, though, you definitely get more bang for your buck in Tbilisi.
Phase 4: Moving in
Once we made our decision, it was a pretty simple process: we met with the landlords (a brother and sister pair), signed the lease, and paid the first and last months' rent in cash (US dollars, as is common here; you can get them from ATMs). The last month's rent is basically insurance: if you move out suddenly, the landlord gets to keep that. Likewise, if the landlord decides to terminate your lease (which they can do with some warning), you get that money back. I'll talk more about the contract we signed later—I assume it's fairly standard across the properties that have contracts (many places will apparently just do a handshake rental deal.)
Other than that, there's no paperwork. You don't have to do background checks, do anything legal, nothing—the red tape is extremely minimal, which I love. Two days after signing the lease we moved in, the landlords showed up to show us how to use some of the things, and we unpacked our two suitcases (we've learned to travel pretty light). And that was pretty much it! We live here now. We did some shopping to get a few extra things we needed (more on that later), I set up a bank account (not much red tape, just a lot of waiting), and so far so good! Getting an apartment in Georgia is easier than almost anywhere else I've tried, and the speed with which you can find something nice is pretty much only limited by how much time you have to go on tours and how picky you are.