Since we just take up a few square meters of personal space, saying that you're moving to a new city is like saying "I fought in the war." You're really going to have to be more specific. Your day-to-day life will be heavily impacted by your surroundings, particularly in a new country where you're probably going to be figuring things out. It's worth doing some recon to figure out where you'll be spending your time!
Tbilisi isn't a massive city on the order of Seoul or London, but it's big enough to have some very distinct areas, and the debate over which of them is best can get a bit fierce. Luckily, it's mostly linked up by subway and bus, so most places are reachable fairly quickly via public transit. Here, I'll try my hand at a rundown of each neighborhood. As a relative newcomer to Tbilisi I'm not the most qualified, but I've conducted obsessive research from Facebook, Reddit, blogs, forums and anything else I could find, as well as taking some strolls around the neighborhoods. I'll continuously update this post as I get feedback and explore more, but this should be enough to give you a rough idea of what the place is like!
The below areas are roughly ordered by distance from Old Tbilisi. There's plenty of good stuff in the rest of the city, but Old Tbilisi is unquestionably the culture/nightlife center, so it makes sense to use it as a reference point. You'll likely notice the general rule that distance from Old Tbilisi = lower prices, newer buildings, and worse architecture. This doesn't hold all the time, but based on what I've found, it's pretty accurate. Spoiler alert: I decided on Saburtalo. I'll talk more about my decision in another post, but you'll probably get an idea why here.
---
Sololaki/Mtatsminda/"Old Tbilisi"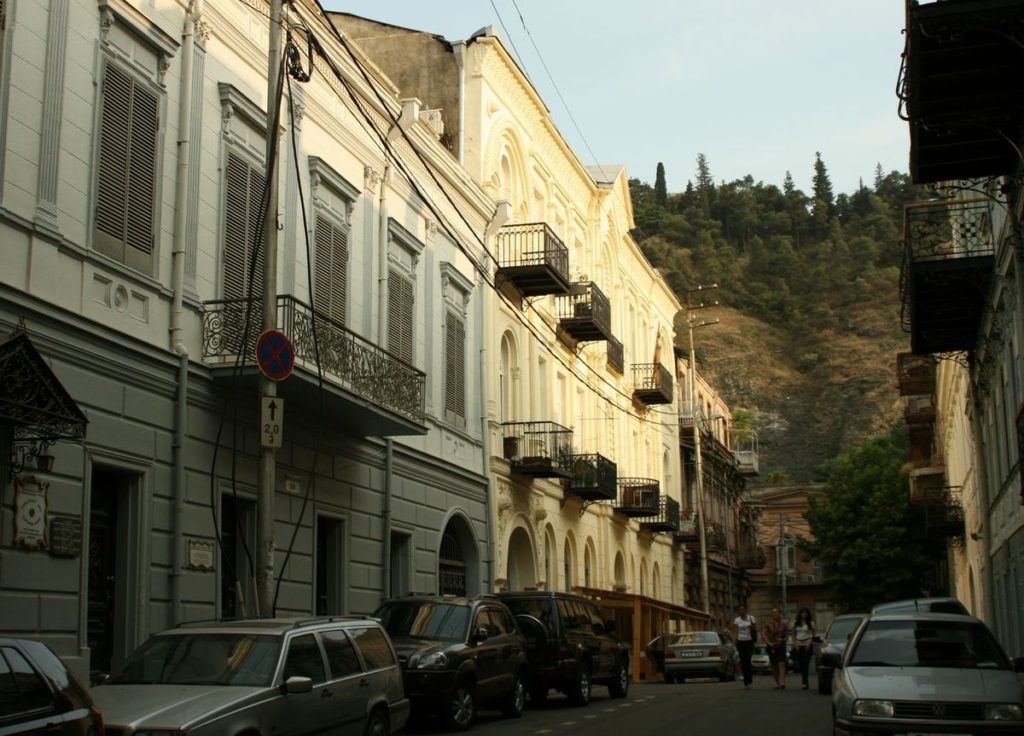 Summary:
Google image search Tbilisi and this is probably what you'll see: old buildings, charming stonework, a buzzy atmosphere—exactly what you want to see when you hang out in a new city. As the historical center of Tbilisi, it gets a lot of traffic and everything tends to be more pricy due to higher demand. It also tends to be a bit more rundown and less advanced in terms of housing quality, but that might be a tradeoff you're willing to make.
Pros:
Close to nightlife
Cool vibe
More traditional feel/aesthetics
Easy access to attractions
Pretty walkable
Small, scattered green spaces depending on your exact location
Cons:
Can be jammed up with tourists and locals alike
more expensive (apartments and general prices both)
traffic
poor air quality
slow internet (no fiber; ~5Mbps down)
older apartment buildings
Personal impression:
I'm probably going to stay away from this area because even though I do like to be close to the action, I'd rather have a more reasonably-priced modern apartment with good internet and a subway connection for when I want to head out. Old Tbilisi can be pricy and jammed up with tourists. A lot of people really like it here, though, as it's a convenient place and has a distinct vibe.
---
Areas around the old town: Vera/Rustaveli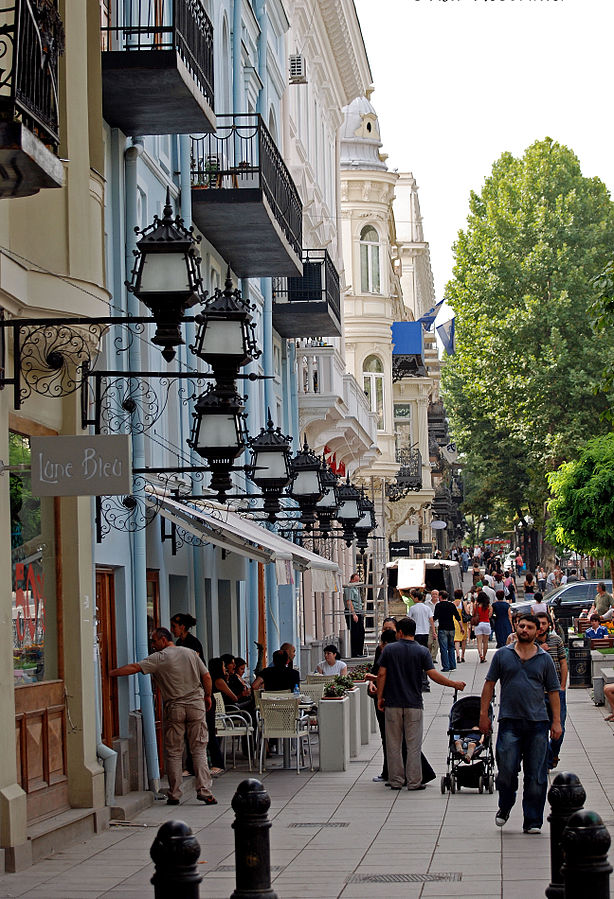 Summary:
Honestly, I know less about this area than I should, perhaps because it's rather vaguely defined. While the geography isn't set completely in my head yet, there are apparently some spots close to the old town, namely around the Rustaveli subway stop (also possibly Avlabari and Marjanashvili), that maintain the traditional/downtown vibe, but tend to be more chill and cost less while still being a few minutes from the action in the city. I'm not sure about internet/building quality, but I'd assume they're a mix depending on where exactly you are.
Pros:
Near the tourist attractions
near nightlife
aesthetically pleasing
relatively quiet
lower prices than Sololaki et al
walkable
access to green spaces
Cons:
possibly older buildings
possibly slower internet
prices still may be higher than other areas
could still be pollution and traffic
Personal impression:
I'm considering this area—it's on my "walk around" list—but a lot depends on prices and building quality. If I can get a modern-style apartment for roughly the same as I'd pay in Saburtalo (a further-out district), it'll probably be pretty high on my list.
---
Vake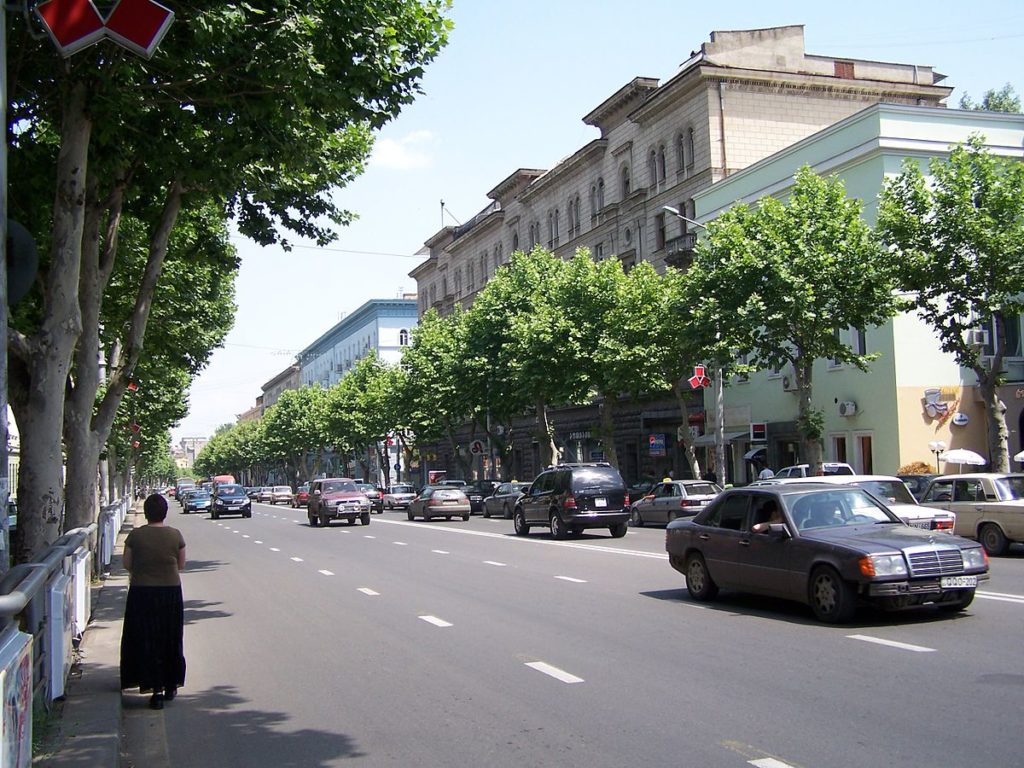 Summary:
Vake has traditionally been sort of an "elite" part of Tbilisi, home to the politicos and bigwigs of Georgia, and it still is to some extent, though according to the Georgians I've met so far this reputation is dying out a bit. Things are a little more expensive there, as you might imagine, but building quality and the quality of things around it (restaurants, cafes, supermarkets, etc) tends to be a cut above the rest. Lots of shiny new places are going up if that's your jam. It has a lot of green space as well, but you have to balance this against the traffic jams and high levels of air pollution that everyone seems to complain about there.
Pros:
High quality
trendy neighborhood
lots of amenities/going-out spots
quite international
lots of green space
close to old Tbilisi by bus/car
Cons:
Expensive
no metro
air pollution
traffic
Personal impression:
I dismissed this option pretty much instantly, mostly due to its lack of metro connections (I have a weird fixation with commuter rail), but a lot of people seem to like it. The green spaces seem nice, but I'd take a metro system and a cheaper cup of coffee over a taxi and an upscale café.
---
Saburtalo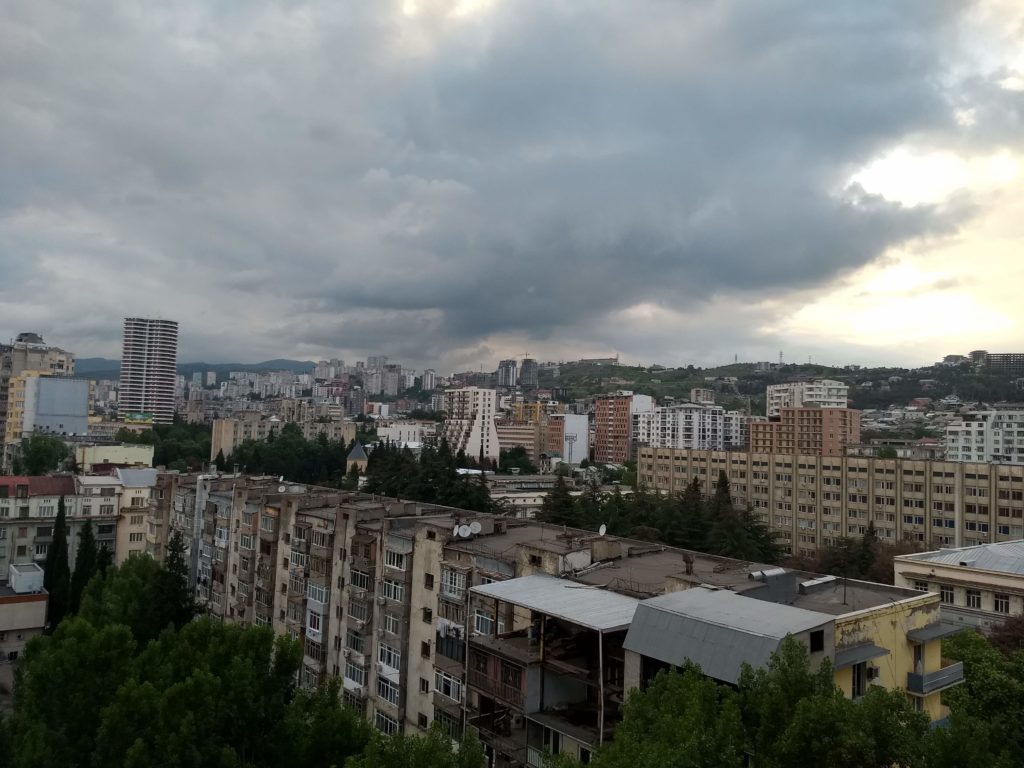 Summary:
This is one of the newer and more heavily-developed areas of Tbilisi, stretching back several kilometers from the river. It's basically a big, dense, well-connected district that offers a good mix of lower prices, good quality, public transportation, restaurants, shops, etc. It might be considered a suburb, but the density, transit links, and walkability apparently do a pretty good job of integrating it into greater Tbilisi (~20-40 minutes to Old Tbilisi by metro/bus) as well as making it a pretty decent standalone neighborhood. There are several universities in the area, and I almost always gravitate towards those if I can—I find you get better deals on most things if you're in an area that caters to students.
It's hard to generalize about Saburtalo, since it's a very big district in its own right (the biggest in the city, I think), but based on my online eavesdropping and some personal walking around, I'd say that what action there is to be found tends to be located near the Medical University stop, closer to the river. This can take you a little far from the green spaces, especially the old Hippodrome park (a bit rundown, but the best outdoor workout area you'll probably find in Tbilisi). The area around Technical University also has some nice things, but your distance to a green space will be quite a ways if that's something you value.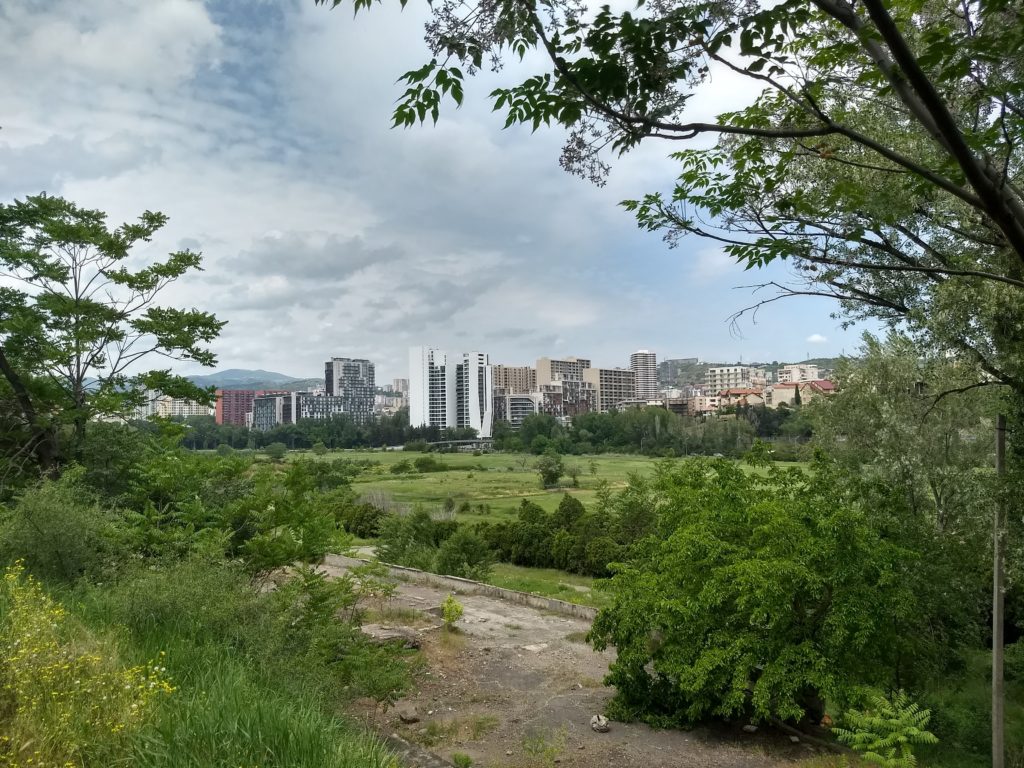 Overall, the perks to Saburtalo seem to be its general livability. It's less crowded but still has plenty of restaurants/bars/cafes, and more exciting things are just a ride away. The pollution is lower, you can easily find supermarkets and stores, the buildings are newer and cheaper, and fiber internet is everywhere. The cons are definitely that it's not Old Tbilisi at all, and it's a small hike to get there.
Pros:
Lower prices
newer buildings
good amenities
easy access to transport
fast internet
lower pollution
less traffic
quiet without being dead
moderately walkable
access to green spaces
Cons:
A bit of a hike from the downtown action
not very aesthetically pleasing
subdued nightlife
Personal impression:
Saburtalo is probably a good fit for you if you're staying in Tbilisi longer-term and you don't mind concrete jungle without much visible history. If you're looking for something pretty, historical, or in the middle of the action, you should probably consider Vera. If you want functional, Saburtalo seems hard to beat. I lived in Korea for a few years and loved it despite all the buildings looking basically the same, so apparently nice architecture is more of a perk than a requirement for me.
As for the area in Saburtalo, that's up to you. I'm probably staying near the Hippodrome park, about a ten-minute walk from Delisi metro. I run almost every day, so the park is a big thing for me. The metro to Rustaveli/Liberty Square takes about 20-30 minutes, so going out there a few times a week won't bother me. If you prefer even more green areas and isolation, you can go way far out to the State University stop on the far end of Saburtalo and get those new developments real cheap.
---
The others: Marjanishvili, Didi Dighomi, further north/south on the metro
Another district I considered (and might consider more later; I'm just low on time now) is Marjanishvili, historically known for being more of a melting pot of people from neighboring countries and now an up-and-comer on the nightlife/tourism scene. It's apparently got a lot of charm and is still on the lower end price-wise, but I didn't find many apartments that fit my bill.
Didi Dighomi (sometimes called Dighomi Massive, I think?) would probably be great for someone who wants a more country life while still technically being in Tbilisi. I've heard it's a quiet, green area, sort of a town unto itself, where things come pretty cheap and you can still be connected to the city by metro and bus, which is nice. I'm an urban jungle fan myself, but this could be worth a look if you're not!
The general impression I get is that as you go further north/south on the metro things get predictably sparser. Some posts I've read have also warned about certain areas in the north/south (not sure which) being less safe, both historically and now. Tbilisi is currently a very developing fast, though, and I've definitely seen nice-looking places going for some crazy low prices if you're willing to accept a long metro ride to the center.
Too long; didn't read
Yeah, I get that a lot. Here's the lazy person version:
Old Tbilisi: beautiful, expensive, quality varies
Vera: beautiful, cheaper, quality… not sure
Vake: trendy, expensive, no metro
Saburtalo: new, practical, cheap, a bit ugly (yeah, it sounds bad when I say it like that, but as a place to live it's very decent!)
Others: Tbilisi is a decent size. There's something for everyone